Chisel Handles to Order
Handles you turn yourself make tools a pleasure to use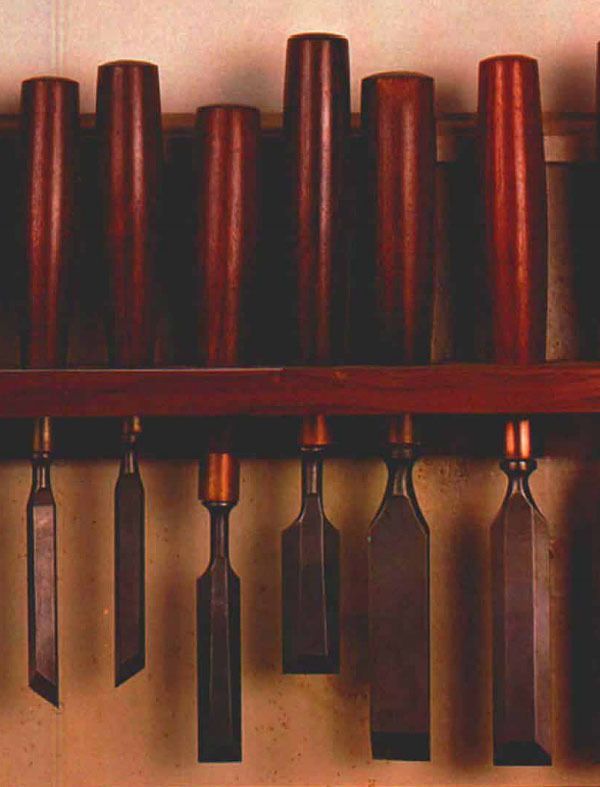 Synopsis: Mario Rodriguez has an enormous variety of chisels — all with matching handles. He makes his own handles from cutoff pieces from his scrap bin. That way, he can customize their size and shape and use antique unhandled chisels everyone else passes up. Rodriguez explains how every chisel has a socket or tang and how to make the handles for both. He also clarifies which can be used for chopping and which ones shouldn't be. Detailed, close-up photos illustrate his methods for making them.
Woodworkers who visit my shop always ask how I have managed to find such a large variety of chisels with matching handles. And they always want to know what kind of wood the handles are made of. The answer is I make my own handles, and I mainly use wood from cutoffs pulled out of my scrap bin. I've pulled some really spectacular pieces of wood from my firewood pile.
Making my own chisel handles lets me customize their size and shape. The result is a tool that looks and works better. Making my own handles also lets me have my pick of all those unhandled antique chisels and gouges that everyone else passes up at flea markets and yard sales (see the photos at right).
Rehandling a chisel is much less of a project than most woodworkers realize. It doesn't take a machinist's precision to make a handle that stays on. A few rough measurements, a good eye and a test-fit or two will get you there. And it only takes a half-hour or less to make, finish and attach a handle.
Chisels have sockets or tangs
Although there's a chisel for every imaginable woodworking task, all chisels have either a socket or a tang. You'll find more socket than tang chisels at flea markets and used-tool sales. Socket chisels used to be the standard, but they're not made much now.
A socket is simply a conical recess in the steel. One end of the handle is tapered to a cone that mates with the socket. A friction fit holds the chisel and handle together. Pounding on the back end of the chisel seats the handle more tightly, so socket chisels are well suited for chopping as well as paring.
Most modern bench chisels and gouges are made with a tang. This is a tapered projection, usually about in. long, that mates with a centered hole in the handle. These chisels are great for paring, but they should not be used for any heavy chopping because the tang can split the handle.
Making the handles
Initially, making a handle for both socket and tang chisels is the same. Determine a length and a diameter for the handle, and prepare a blank to those dimensions. Adding a few extra inches to the blank will make turning easier. If you're turning a handle for a socket chisel, don't forget to include the part that fits inside the socket. Think about the size of the blade and how that will affect the balance of the chisel. Consider the chisel's intended use.
From Fine Woodworking #120
For the full article, download the PDF below:
View PDF