Flattening Wide Panels by Hand
A flat, blemish-free surface doesn't have to take all day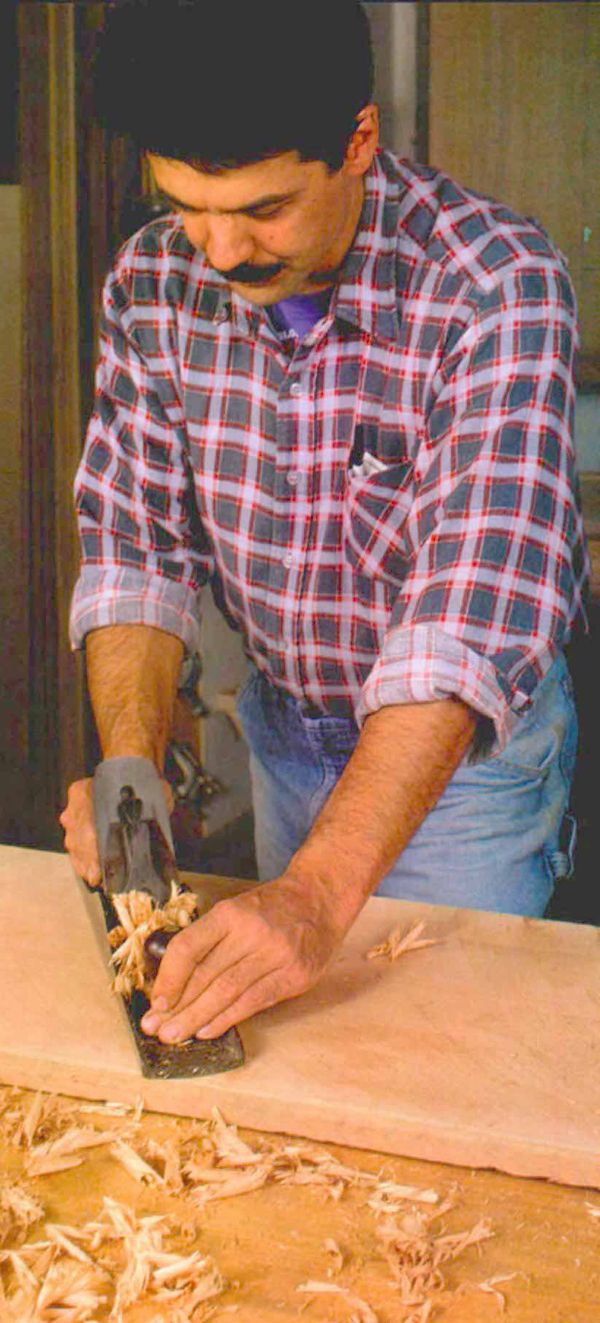 Synopsis: William Tandy Young flattens larger panels two ways: if he has a lot of them, he takes them to a local millwork shop. If he has just a few, he gets out the hand tools. With a jointed straightedge, a No. 7 jointer plane and a No. 80 cabinet scraper, he can flatten just about any panel. He explains here how to plane across and then scrape with the grain, and how to tune your tools to make the work go more quickly.
Sooner or later, most woodworkers will have to flatten and thickness a plank of solid wood wider than their jointers or planers can handle. When I have a lot of wide panels to flatten, I take them to a local millwork shop. The big jointer and planer can do the job in minutes, and the wide-belt sander can thickness heavily figured wood without tearout. Typically, I can have all the major parts for a large, solid case-work piece sanded to 120-grit on both sides in about 30 minutes. Sanding usually costs about $30—money well-spent.
When I have only a few panels to flatten, however, I stay in my shop and do the job with hand tools. The work is satisfying, and it goes quickly. It took less than an hour to flatten one side of a l6-in.-wide cherry board. With a jointed straightedge and just a few commonly available hand tools (a No. 7 jointer plane and a No. 80 cabinet scraper), I can flatten just about any panel, even one many times wider than my planer.
Many woodworkers I know own 12-in. or 15-in. planers, but few have jointers with a capacity of more than 8 in. And there's the rub. By learning how to flatten one side of a wide board with hand tools, you can still take advantage of your planer for thicknessing. You won't have to rip boards down to size, joint them and then glue them back together. You'll save time and have fewer gluelines.
Using hand tools to flatten a panel that's too large for your jointer or planer is also more efficient and less annoying than other low-tech methods. I've surfaced solid panels with a belt sander, but I sure don't relish all the noise, dust and vibration. I've also seen panel-surfacing jigs that consist of a router in a large plywood base riding on top of wooden rails at either side of a workpiece. My reaction has always been, "All that jig-building and routing just to end up with a surface that still needs a lot of cleanup? No thanks, I'll stick with my jointer plane and cabinet scraper."
Plane across, and then scrape with the grain—The beauty of this technique is that I can flatten a board quickly while avoiding tearout altogether. I plane straight across the grain, eliminating the possibility of the plane blade catching the grain and lifting and breaking wood fibers. After using the jointer plane, I scrape with the grain. Because of the angle at which the cabinet scraper holds the blade, there's no chance of tearout.
For the full article, download the PDF below:
View PDF