Installing a Half-Mortise Lock
When you do it right, the result is your reward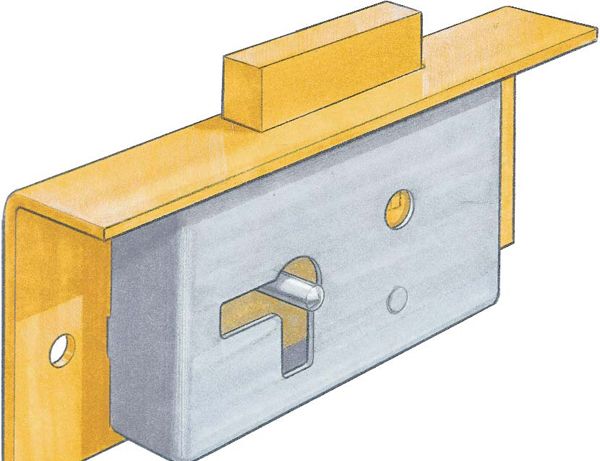 Synopsis: Philip C. Lowe always asks his clients if they want locks and escutcheons on the furniture he's making for them. Simple hardware can add a lot to the total cost, but when they see a finished piece, they understand why. Lowe talks about how to size the hardware to the piece you're building, how to install a half-mortise lock, and how to mortise the body, lip and back plate, fit the escutcheon, and finish the job. The article includes side information on choosing an escutcheon.
As a younger man, I served a stint in the Navy. I spent much of the time aboard the repair ship USS Jason out of San Diego, where I worked in the same shop alongside an older German patternmaker. I learned from him the importance of details. Not until some years later, after I'd set up shop as a furnituremaker, did I learn something (the hard way) about the value of details. I told a client who had commissioned a chest of drawers that I would throw in four locks with escutcheons for the cost of materials only. I figured the extra hardware would add just a few hours of labor to the project, and I could handle that.
Well into the eighth hour of installing the locks, I learned my lesson. When your livelihood depends on what you can accomplish in a given work day, time really is money. Now, when clients want an estimate on any job with doors or drawers, I always ask if they expect locks and escutcheons. They're usually amazed that such simple hardware can add so much to the total, but when they see a finished piece, they understand why.
What matters most is the kind and quality of lock you choose. If economy of time and material is important to you, a simple cylinder lock can be installed by drilling one hole and securing the lock with two screws. Surface locks are even easier because they are quickly attached with screws, no mortising.
I often use half-mortise locks. They're more expensive, but they really dress up a piece of furniture. They are set into the back surface of doors or drawers and flush to the edge. First-rate hardware for half-mortise locks is available from a number of suppliers.
Before you pick up your tools
The size and kind of lock you use on a piece of furniture will affect basic design decisions. When I build a cupboard door with a lock, I like the keyhole to fall dead center on the width of the visible stile—not the actual width, which might also include a rabbet for overlapping doors or a piece of applied molding. So I refer to hardware catalogs and check the critical dimensions: the width of the lip, the selvage, and the length and width of the back plate (see the drawing above). For a selvage dimension of 11⁄4 in., I would make my cupboard-door stile 21⁄2 in. wide.
From Fine Woodworking #115
For the full article, download the PDF below:
View PDF