Patternmaker's Vises
The most versatile work-holding device ever bolted to a bench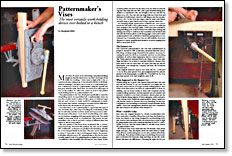 Synopsis: An ideal vise is one you can forget about while working. In this article, Benjamin Wild talks about what a vise should and shouldn't do and what the Emmert vise is, or was. He lists what's available today, now that Emmert is out of business, and details the AMT vise, the Veritas Tool vise, and the Kindt-Collins vise. He closes with hopeful information about the 1984 acquisition of the Emmert inventory, patterns, and production machinery, and the possibility of the company's rebirth.
More than 20 years of woodworking and patternmaking taught me that the ideal vise is one that I can forget about while I'm working. I don't want to fight with a vise or spend much time setting it up. A vise should hold the work firmly, without marking it, and allow me to work in a comfortable position. I started my career as a patternmaker using the special vise that goes with the trade. Since then, I've tried every other type of vise on the market. No other vise comes as close to the perfect work-holding device as a patternmaker's vise.
The patternmaker's vise was developed specifically to meet the demanding needs of a specialized job. A patternmaker turns out wooden models (such as plane bodies, gears or tablesaw tops) that are used, in turn, to create molds for casting parts in metal. The models often assume odd shapes and sizes and are difficult to hold—hence the development of a special vise.
You don't have to be a patternmaker to appreciate this type of vise. It's better than other vises at holding the work firmly so that the woodworker and the tool have ready and easy access to virtually any part of the piece. I now teach woodworking, and I often see my students struggling with improperly held work. The result usually is inaccurate work or a botched job. The beauty of a patternmaker's vise is that it can hold a variety of different sizes and shapes in almost any position.
The vise attaches to the front of the workbench like a conventional bench vise. But from this position, the vise can be rotated 360° or lifted 90°, so the jaws are parallel to the benchtop, all with the wood clamped firmly in the jaws. The jaws can be angled up to about 5° from side to side to hold tapered objects. An accessory tilt plate will pivot up to 30° perpendicular to the vise for more severely angled work or for gripping pieces angled in two planes.
In addition to this versatility, the vise has two sets of jaws. In the normal position, the jaws are the same as in any other woodworking vise.
From Fine Woodworking #113
For the full article, download the PDF below:
View PDF