A New Angle on Whetstones
Can oil and water be mixed?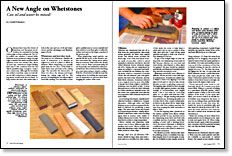 Synopsis: Gerald Polmateer takes a look at the care and use of oilstones and waterstones and the advantages and disadvantages of each. He discusses storage, care, and use, along with alternatives (including diamond stones and ceramic stones), and what happens when you use oilstones and waterstones in tandem. A chart breaks down the pros and cons of waterstones and oilstones.
Oilstones have been the choice of American and European woodworkers for centuries for honing a keen edge on their cutting tools. The only conflict was whether a natural white Arkansas stone produced a sharp enough edge or whether the harder and finer black Arkansas stone was needed. But, about 15 years ago, waterstones began finding their way to this continent from the Far East in quantities large enough to create a new controversy. Although the brouhaha has settled somewhat, many woodworkers are still confused as to which sharpening stones would work best for them. To help resolve the issue, this article takes a look at the care and use of oil and waterstones and the advantages and disadvantages of both.
Whetstones and how they work
The purpose of a whetstone, whether oilstone or waterstone, is to sharpen an edged tool, such as a plane or chisel, by abrasion. When sharpening, you actually grind away the two faces of the blade to make them meet precisely at the cutting edge. The smoother the intersection of these two faces, the sharper and longer lasting the cutting edge will be. The process of obtaining the smoothest edge is much like sanding: You start with a coarse grit to quickly remove excess material and then switch to ever finer grits to refine the surface and remove the larger scratches of the previous grit.
When sharpening, metal particles can quickly fill the pores of the abrasive surface and reduce the cutting action unless they are removed. That's where the oil and water come in. Water and particularly oil are frequently and mistakenly referred to as lubricants. But a lubricant is the last thing you want when trying to abrade a surface. Both the oil and water actually increase the cutting action by holding the metal particles in suspension to prevent them from clogging the surface of the stone.
From Fine Woodworking #101
View PDF