Setting Up Shop
Three pros give advice on outfitting a first shop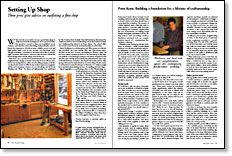 Synopsis: Peter Korn, Mario Rodriguez, and Mark Duginske recommend different tools that woodworkers need to set up a good basic furniture woodworking shop. Workshops are individual, but there's a common thread of sense in what they offer. Korn advises that machinery and hand tools are complementary aspects of a contemporary workshop; Rodriguez suggests going heavy on quality hand tools, with a few select power tools, and Duginske talks about starting off with inexpensive tools that allow you to get the job done, as opposed to too few high-end tools that leave you stuck. Each expert lists the makes and models of the tools he recommends.
What tools do you need to set up a good basic shop to make functional furnishings you can be proud of? That's the question I posed to three accomplished woodworkers—and teachers of woodworking. Independently, each affirmed the importance of both accurate, reliable power tools…
Start your 14-day FREE trial to continue reading this story.