An elegant writing desk
A three-drawer case on fluted legs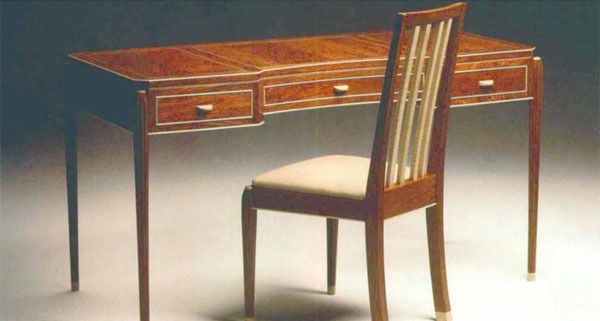 Synopsis: When Terry Moore designed this light and airy writing desk, he wanted to create an elegant piece that would be used for occasional handwritten correspondence. He made the drawer case with corner blocks and aprons, later attaching the legs, which simplifies the process and allows for profile experimentation. He explains how he made the drawer case, the drawer frames, how he glued up the drawer case, and how he made and veneered the top. He fluted the legs on a shaper and made the drawers and pulls. Detailed project plans illustrate the article.
---
Of all the different pieces of furniture I build, desks are my favorite. I think they are special objects, set apart from the common table by their utilitarian designation. Whether an austere business desk for an executive, an office computer workstation, or an elaborate cabinet secretaire for the home, each desk is designed to fit a specific purpose. When I designed this writing desk, I wanted to create an elegant piece of furniture that would be used for occasional handwritten correspondence. To this end, the desk's form could be of more delicate and airy proportions. One of its two main focal points is the curved central drawer, which creates an inviting intimate alcove; the other focus is the tactile form of the fluted legs attached to the drawer case's diagonal corner blocks.
Making the drawer case with its corner blocks and aprons, and later attaching the legs, not only simplified the construction process, but also allowed me to experiment with different leg profiles. Though I initially tried square-tapered and lathe-turned designs, I eventually chose 12-sided, tapered, fluted legs. I'll explain more about how I made these legs later. The desktop is the same size and shape as the drawer case, and the top has veneered bookmatched bubinga "panels" that are outlined with curly maple string inlay. A veneered "frame" borders the panels, and the edge is trimmed with a curly maple binding.
Making the drawer case
Once I decided on the overall size and shape of the top, I began building the drawer case. I made its visible parts from bubinga and used cherry for parts that aren't visible. The drawer case has two short side aprons and one long back apron; a drawer rail above and below each drawer opening; and a center divider between each drawer compartment. As I mentioned, the case is assembled around angled blocks: one at each of the corners and one on each side of the center drawer. These blocks are mortised to receive the ends of the aprons and the two center dividers. The ends of the four side-drawer rails are dovetailed to both the front corner blocks and the front face of the center-drawer blocks.
From Fine Woodworking #90
For the full article, download the PDF below:
View PDF