An Elegant Writing Desk
A three-drawer case on fluted legs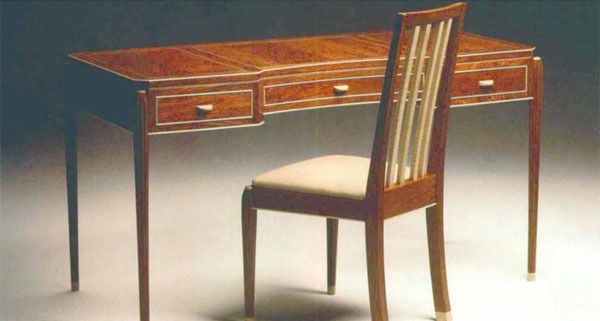 Synopsis: When Terry Moore designed this light and airy writing desk, he wanted to create an elegant piece that would be used for occasional handwritten correspondence. He made the drawer case with corner blocks and aprons, later attaching the legs, which simplifies the process and allows for profile experimentation. He explains how he made the drawer case, the drawer frames, how he glued up the drawer case, and how he made and veneered the top. He fluted the legs on a shaper and made the drawers and pulls. Detailed project plans illustrate the article.
Of all the different pieces of furniture I build, desks are my favorite. I think they are special objects, set apart from the common table by their utilitarian designation. Whether an austere business desk for an executive, an office computer workstation, or an elaborate cabinet secretaire for the home, each desk is designed to fit a…
Start your 14-day FREE trial to continue reading this story.