Chemical Hazards of Woodworking
What you don't know can hurt you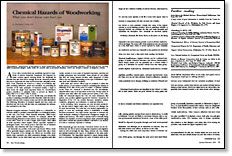 Synopsis: Many woodworkers expose themselves to toxic levels of products because they don't understand the product, appreciate the risks, or take adequate precautions. In this article, physician and woodworker Theodore J. Fink explains the chemical hazards of organic solvents, how they get into the body, and how to classify organic solvents to better understand what safely substitutes for another. He discusses other hazardous materials, such as adhesives, and how to limit your exposure. An expansive, detailed chart outlines how various woodworking chemicals are used, their toxicity, flammability, volatility, route of absorption, organs affected, symptoms, and other comments. Dr. Fink also offers side information on how to read a manufacturer's safety sheet.
All too often woodworkers are needlessly exposed to toxic levels of various chemicals. Sometimes this happens because workers ignore warning labels, but frequently it's because they just don't know enough about the chemical products they use to appreciate the risks involved and take adequate precautions. Toxic chemicals are found in a variety of woodshop supplies, including adhesives, paints and varnishes. By presenting an overview of the basic principles of chemical toxicity, I hope to drive home the single most important lesson for woodworkers; protect yourself—it is infinitely better to prevent an illness or injury than it is to treat it after it occurs.
The chart in figure 1 on pp. 60-61 should help you identify the products containing potentially harmful chemicals, clarify the risks associated with the most common toxins and choose safer alternatives. The following discussion of chemical hazards and how toxins are absorbed into the body will also help you understand the information presented in the chart.
Hazards of organic solvents—Toxicity refers to a chemical's, or solvent's, ability to produce a harmful effect on a biological system, in this case, your body. These harmful chemicals, called toxins, often target specific tissues. Benzene, for example, attacks the blood-forming elements in bone marrow. Any chemical can produce a toxic effect. Some do so with a single, brief contact, often called an acute exposure; others require chronic exposure: repeated or prolonged contact. The crucial point is that there are no harmless chemicals, only relatively safe ways of using them.
All chemicals can produce both acute and chronic effects. Acute effects generally happen quickly and the illness lasts only a short time. If exposure is low enough, the effects are reversible. More intense acute exposures can cause permanent damage, even death. Chronic effects, on the other hand, may not be apparent until after weeks, months or even years of repeated exposures, and they are usually permanent and irreversible. Some people do not realize that they are being harmed because early symptoms of these effects can vary greatly depending on the type of substance, exposure level and individual sensitivity.
Both acute and chronic effects may be localized or affect the entire system. A local reaction would be something like redness or blistering of the skin at the point of contact.
From Fine Woodworking #80
For the full article, download the PDF below:
View PDF