Carving Benches
A carving/shaving bench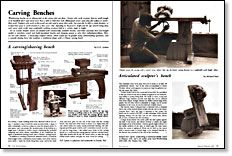 Synopsis: Few carvers are satisfied with commercially available benches, so they either customize store-bought models or start from scratch and build specialized benches and clamping systems to solve their individual needs. This article details a heavy-duty sculptor's bench, which is good for cabinetmaking operations, and a versatile shaving horse that combines a traditional design with a Chinese carving bench. E.D. Lyman sometimes mounts a tractor seat on the carving/shaving bench for more comfort, and Pierre Cloutier's bench can be rotated 360 degrees to take advantage of lighting.
As a hobby, I make walking sticks from diamond willow and sumac. I needed a way to hold the stock securely while I shape it with a drawknife, as well as a place to carve the shaped sticks. To save space, and concentrate the messiest parts of my hobby in a single spot, I decided to build a bench combining the powerful clamping and quick release capabilities of two traditional designs—a dumbhead shaving horse and a Chinese carving bench.
In addition to creating a functional, attractive bench, I found the extra weight of the combination bench makes each of the devices more stable. I made the whole thing from scrap: oak for the head, neck and foot; pine for the rest of the horse and the carving bench. The head end of the horse is about 2 in. higher than the rear, which makes for easier, nearly horizontal shaving. The sliding seat provides great comfort, and I sometimes mount on a tractor seat for long stints. I also added more holes on the carving bench, so I could vary the roping patterns, and two notched risers, 2x4s with dowels that fit into the bench holes, to raise the work off the bench surface and give me more room for carving
Articulated Sculptor's Bench
The Canadian town of St. Jean Port Joli is home to at least 100 professional carvers. One of the most accomplished is Pierre Cloutier, whose work appears in numerous big-city galleries under the name Pier Clout.
Cloutier works both in-the-round and in bas-relief. He specializes in life-size human forms and is widely recognized for his extraordinary ability to portray living flesh. His studio is clean, roomy and efficient. Huge windows provide west light that can be softened with white drapes. Storage cabinets are hidden behind large white panels. His tool rack, which is adjustable in height, can be moved anywhere in the room, as can his solid and versatile bench.
The bench's heavy T-shaped base is fastened with a threaded rod to one of the several keyed sockets that are cast in the shop's concrete floor. Once the base is attached to the socket, the bench can be rotated a full 360°, to take advantage of the natural lighting. Fitting over the base unit are two slotted tabs, which are, in turn, mortised into the benchtop.
From Fine Woodworking #56
For the full article, download the PDF below:
View PDF