Refining the Craftsman Style
The legacy of Harvey Ellis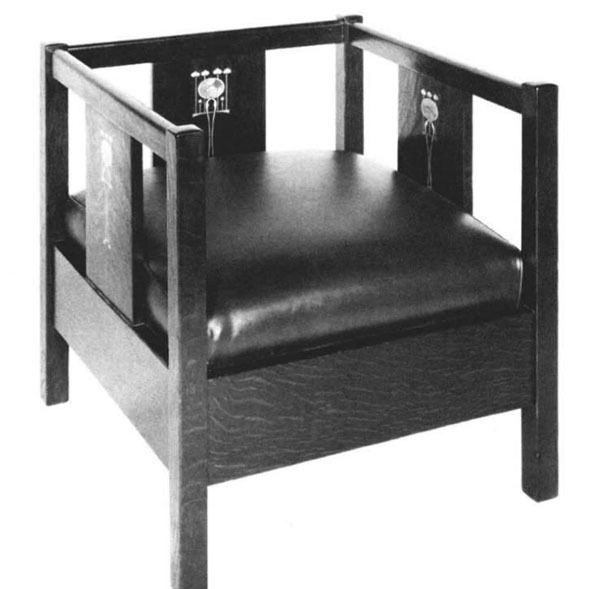 Synopsis: David Cathers describes the unlikely yet productive addition of Harvey Ellis to the Stickley team, brief though his tenure was. Cathers describes Ellis' training, lifestyle, design ideas, talent for inlay, and his less celebrated but possibly most valuable contributions to Stickley creations: bowed sides, paneled backs, arched aprons, and more. Extensive photographs and drawings showcase his influence on the line.
Harvey Ellis signed on with Gustav Stickley's renowned Craftsman Workshops as a designer in May, 1903. An aesthete and a dissipated romantic, Ellis could not have been more unlike the robust, moralizing Stickley, the leading American exponent of the Arts and Crafts style and philosophy. Yet Ellis' impact on Craftsman furniture was immediate, drastic and lasting. Where Stickley's designs employed massive, powerful oak members, bristling with through tenons, unrelenting rectilinear forms and heavy wrought-iron hardware, Ellis' furniture was delicate, light and colorful. Stickley preached against the dishonesty of applied ornament. True decoration, he insisted, developed naturally from materials, structure and methods. His furniture showed exactly how it was put together. Ellis, on the other hand, subordinated structure to form, introduced abstract decorative inlays and relied upon discrete, hidden joinery as the typical elements of his designs.
Ellis trained as an architect in the 1870s, and while still a young man he produced several notable commercial buildings in his home city of Rochester, N.Y. During the 1880s and 1890s, as a journeyman designer and draftsman working for midwestern architectural firms, he created brilliant architectural designs—for small wages and no recognition.
Ellis' talent for design did not spill over into other areas of his life. He had no talent for success. By his early twenties he was drinking heavily, establishing the pattern of drunkenness and dissolution that marred most of his life. He was as careless with his money as with his own well-being. "He was," wrote his friend Hugh Garden, "an artist and romanticist who loved to indulge his peculiar taste for life in the nearest and readiest direction, careless of the result and apparently without any marked ambition." In January, 1904, nine months after he had joined Stickley, Ellis died. Years of heavy drinking had taken their toll. He was 52.
It is the inlay which draws today's admirers to Ellis' work. The pewter, copper and stained woods added color to Craftsman furniture and it added expense—fine inlay is difficult and time-consuming to produce. Ellis' most characteristic inlay patterns are abstracted floral and plant forms. Other patterns show the influence of Japanese and American Indian designs. He delighted in fairy tales, and he adapted sailing ships, woodland scenes and other motifs from those stories for his inlay. His patterns are whimsical or abstract, usually symmetrical, and always prominent in the furniture.
From Fine Woodworking #34
For the full article, download the PDF below:
View PDF