Woodworking in Mendocino
A close look at the new generation of artist-craftsmen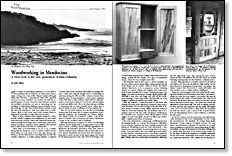 Synopsis: This article traces the influence Mendocino craftsmen have had on woodworking and related lifestyle choices. These "outsider craftsmen," as James Krenov calls them, have a seriousness of purpose, often not fueled by dreams of riches. Although Mendocino is typical of a dozen woodworking enclaves, several things set it apart. There is a thriving association that provides help and instruction to woodworkers there; Krenov is there; and the natural beauty of the place is stunning. The author of the article introduces a few woodworkers in the area, describes their work and interests, and shares their perspective on the craft and life there.
From Fine Woodworking #29
Part of today's woodworking renaissance is a new generation of artisans who've found in our craft not just a way to make a living, but a way of life. They're usually self-taught rather than schooled or apprenticed. They often approach wood not as mere material to be worked, but with the respectful passion of a poet. Given the choice between a tedious but profitable production job and an interesting but less profitable woodworking challenge, they'd probably choose the challenge. Or else, they'd build kitchen cabinets to buy the time and materials for what they really want to build. They're likely to find more useful truth in James Krenov's impractical books than in Tage Frid's how-to texts.
Many of these craftsmen were hippies during the 1960s, weirdly bearded longhairs now straightened up and settled down with wife and kids. Others have abandoned lavish educations and high-technology careers, preferring to plane wood instead of program computers. These craftsmen have decided they'd rather work wood than do anything else.
These ideas of woodworking as an art, or as a Druidic dialog with the living tree, or as a vocation to which one has been called, are very much of our own time. Krenov (see Books, p. 26) has done much to encourage those he calls "the outsider craftsmen," to justify putting aesthetic or spiritual concerns ahead of the mundane practicalities of making a living. I doubt that anybody thought about woodworking in such ways during the 18th and 19th centuries—indeed, these attitudes seem incomprehensible to many senior craftsmen today. Still, these young craftsmen share with the older generation a seriousness of purpose, love for the craft and respect for hard and skillful work. Above all, they insist upon finding a harmonious life in some beautiful place, rather than a raucous hustle for fame or affluence in some asphalt city.
Thus all over North America you can find woodworking enclaves that don't seem able to support populations of professional craftsmen, yet nonetheless do. There's Eugene, Ore., Bucks County, Pa., or Santa Fe, N.Mex., or the mountains of Colorado and of Vermont—and there's Mendocino County on the northern coast of California.
For the full article, download the PDF below:
View PDF