Japanese Blades
Traditional sharpening methods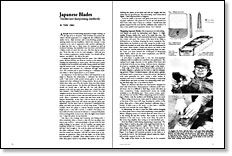 Synopsis: Toshio Odate describes his early training as an apprentice in Japan and the painful, but lasting, lessons he learned there. Then he describes Japanese blades, how they are made and reconditioned, and how to sharpen them with waterstones. He explains how to maintain the flat back and prepare the plane. Photos show his technique of sharpening while on the floor, among other techniques.
Although most woodworking apprentices begin training at the age of 13 or 14 years, I was 16 when my parents decided I should apprentice to a tategu-shi, the craftsman who makes doors, shoji (screens) and room-dividing panels. My starting master was my stepfather, which was unusual. It was common to be sent to apprentice with another craftsman for at least the first two to three years for spiritual as well as technical training. My stepfather was very strict and believed a father could not teach his…
Start your 14-day FREE trial to continue reading this story.