George Nakashima
For each plank there's one perfect use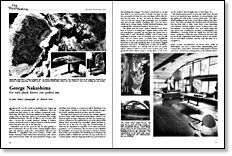 Synopsis: Wood planks near the heart of the tree reveal the complete history of a tree, and these were the specialty of woodworker George Nakashima (1905-1990). He had hundreds of colossal planks waiting for projects, some hundreds of years old. Fine Woodworking's John Kelsey spent time with Nakashima and examines his philosophy, work styles and ideas, his biography, experience, and his work catalog. The detailed article describes how Nakashima's career grew, and plenty of photos illustrate the breadth of his vision and design perspectives.
From Fine Woodworking #14 
Scattered all over the world are landmark trees of great age and stature, monuments as old as civilization. They are usually past their prime, in the ordinary commercial sense, when they fall before advancing asphalt or the simple weight of age. They are discards, unless a woodworker like George Nakashima gets them. His aim, he likes to say, is to give…
Start your 14-day FREE trial to continue reading this story.