Cabinetmaker/Writer
An early pioneer still going strong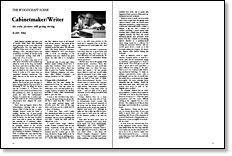 Synopsis: When Andy Marlow started writing about how to make fine furniture, there were no other books on the subject. This article talks about his books and his path to writing, his start in furnituremaking, and his talent for design and proportion. His showroom is in his house; he made all the furniture, and though it's in daily use, each piece has a little tag on it. If you want it, he'll empty it out, polish it off, and hand it over. He has just a small shop, and the article details what he uses to make a lifetime's work. Though not classically trained, Marlow's advice is useful for woodworkers regardless of their ability level.
Andy Marlow chuckles and says a lot of people think that's him standing there grinning on the cover of his book Good Furniture You Can Make Yourself. The large man on…
Start your 14-day FREE trial to continue reading this story.