Gallery
Ellipse- Solid Superior Walnut Oval Pedestal Dining Table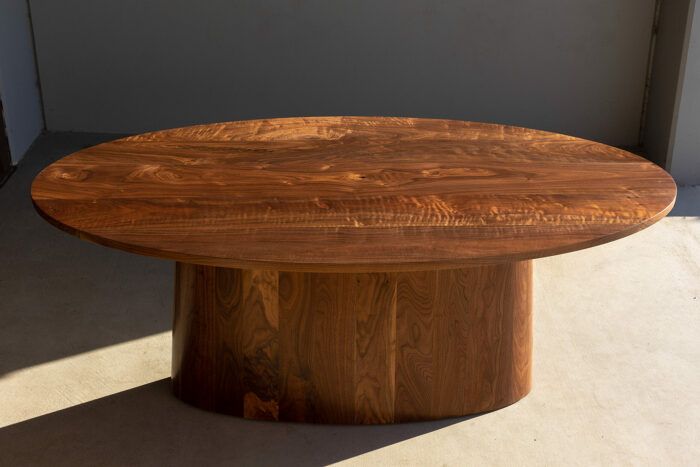 'Ellipse' is a recent favorite client commission, made entirely of hand-selected superior walnut (78″Lx40″Wx30″H). The tabletop is oval shaped, with an eye-catching 18° chamfer edge and a complimentary slim-profile tapered base.
Engineering the design for Ellipse's base was the most challenging aspect of this project. It's constructed from 32 individual pieces of solid walnut, all cut at their own unique compound angle. After glueing, we wrapped and hand sanded it for a seamless appearance. Overall, Ellipse took nearly 140 hours of labor to fully complete.
We used Shellac and Conversion varnish finish by General Finishes to bring out the natural chatoyance of the walnut.
To see more of 'Ellipse' visit our website:
https://www.casadegadesign.com/gallery-posts/ellipse-oval-pedestal-dining-table
Ellipse- Solid Walnut Oval Dining Table (Photo: Paige Nelson Photography)
Ellipse- Solid Walnut Oval Dining Table (Photo: Paige Nelson Photography)
Ellipse- Solid Walnut Oval Dining Table (Photo: Paige Nelson Photography)
Ellipse- Solid Walnut Oval Dining Table (Photo: Paige Nelson Photography)
Ellipse- Solid Walnut Oval Dining Table (Photo: Paige Nelson Photography)