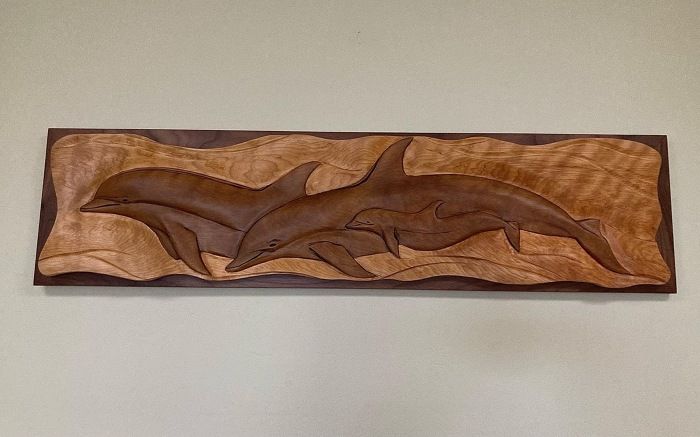 Rob Roy was a Vietnam veteran from San Diego who had PTSD and other mental health issues that weighed him down. He used painting and wood carving as a therapeutic creative outlet. 5 years ago he fell ill and died, unable to finish what would be his final carving. The piece was left collecting dust in the garage of the doctor who assisted him during the final years of his life. I had the good fortune and opportunity to have that last piece of his fall into my hands to finish what he started. 
     What rob had started was a beautiful piece of birch that he had carved about 90% of the dolphins out on. The figure of the wood flows very well with the subtle arches of the dolphins. This was my first attempt at wood carving. I felt very unsure of my abilities to adequately complete this piece. Getting familiar with the proper techniques on an advanced piece like this felt like forgoing the training wheels when learning to ride a bike. I put many hours into the final details, uncertain whether it was my inexperience with carving or if it usually takes a long time for run of the mill individuals like myself. I finished it by toning the dolphins a contrasting color that matched the walnut frame I added to the back. Overall I was very pleased with how it turned out.
     On another note, people all around us are dealing with mental health issues, most of which is unspoken. The arts and crafts is one the oldest forms of therapeutic relief people have used to express themselves and cope with their problems. It's changed my life for the better. I think a lot of people who woodwork and read this magazine can attest to the undeniable fulfillment that comes from creativity.