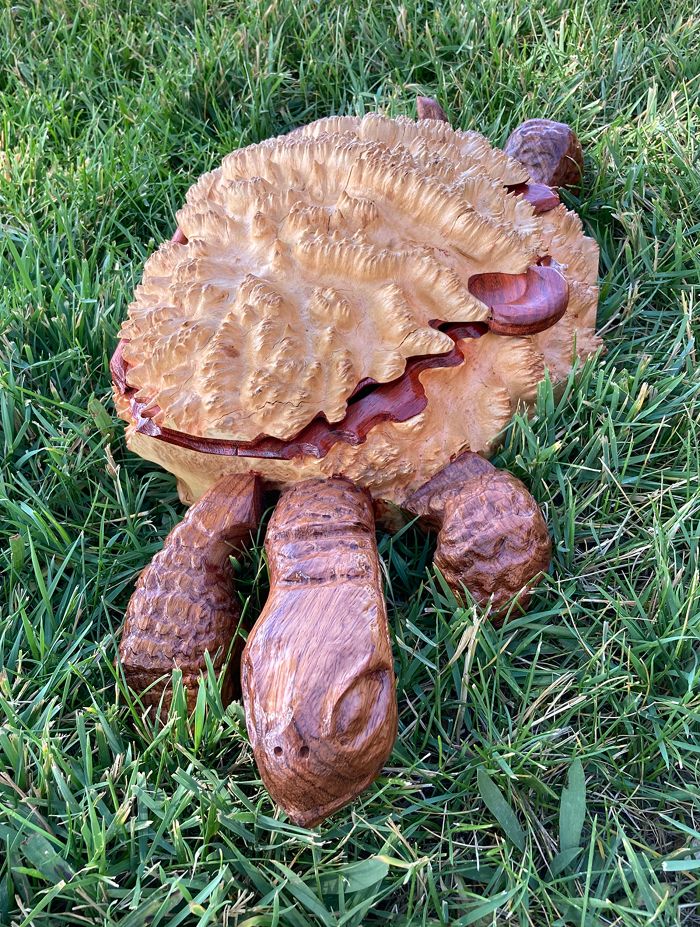 21" long, 9 ½" wide, and 7" high.  I am pretty sure the body is Amboyna burl (when I got the burl there was no info about it and the manager of Rockler store didn't know what it was.  I paid $30 for it!  A bargain I think).  Head and legs are figured Bubinga.  African Padauk was used for the hinge and the top edge of the box section and the bottom edge of the top.   Carving the Bubinga was very hard – I used a power carver.  There are no stains of any kind – the finish is Deft spray lacquer – I used many coats because I think people may handle it a lot.  I picture using this at a buffet table filled with some kind of food – crackers, bread, cookies, M&Ms etc.
Looks great in the grass.
The inside of the burl - incredible colors and patterns!
I looked at pictures of turtles to get an idea of what the skin looked like and tried to make it realistic.
The skin on neck changes from scales to wrinkled skin.
closer view of inside of box.