Gallery
Walnut and Bird's Eye Maple long dresser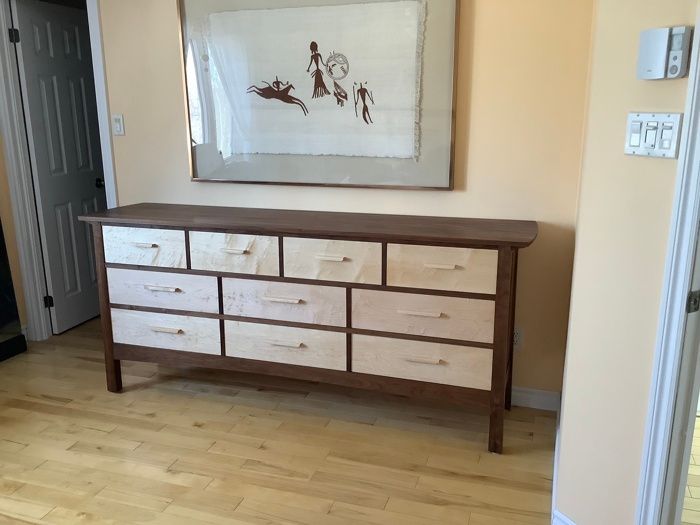 I had been looking for an example and/or plans for a large low dresser to complement the rest of our bedroom furniture. I had a pretty good idea of what I wanted but needed help. Michael Pekovich's "Frame and Panel low dresser" (July/Aug 2015) was exactly what I had in mind.
After studying his plans carefully to fully understand them in detail (and work out a few issues), I modified the dimensions in terms of width and height to accommodate 10 drawers of equal height. I retained the same depth and all the structural components: double tenons, vertical dividers etc including the 7/8" thickness for most of the frame components. This latter requirement was somewhat challenging since I was working in walnut, I do not have a jointer and buy my lumber already finished which means 7/8" is not standard so I had to be creative. By respecting the 7/8" requirement for the rails and dividers, I was able to achieve the offsets between the legs, rails and dividers that add so much to the finished piece. I did however use 3/4" boards for the top. I added vertical stays between the lower, middle and upper back rails, to provide added support, given the back rails are only 3/4" thick and are only supported on the ends (and my back rails are over 6' long…) I also added a thick central rail between the front and back bottom rails, again to add rigidity to this wide and heavy piece; a fifth foot is placed directly under it, in the center of the dresser for added support. 
Each row of bird's eye maple drawer fronts was cut from a single board (3 boards in all) to provide consistency. Hand cutting the half-blind dovetails in 10 hard maple drawer fronts was fun! I actually had to re-lap my chisel after every drawer! To build and fit the drawers, I relied heavily on Gerald Curry's article "Build Perfect Drawers" (Sept/Oct 2014) and several uTube how to videos on half-blind dovetails. 
I used "Tried and True" Original Wood Finish: I like it on walnut as well as on the bird's eye – it makes the eyes pop nicely and does not yellow over time.  
This was a challenging and really fun project that allowed me to learn so much and for which I am extremely grateful to FWW and Mike Pekovich in particular for being such an excellent and useful resource. 
Walter Lyons
Gatineau Hills
Canada
Lower rails are slightly beefier than original plan to allow for arch.
Detail of half-blind front dovetails and through back dovetails
Non-traditional drawer pulls reflect style of rest of bedroom furniture.