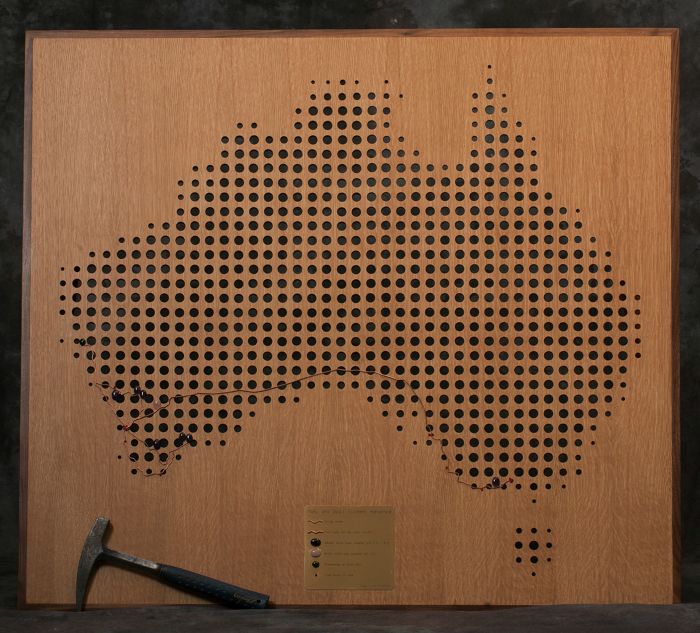 This project represents a map of a research/vacation trip using a combination of wood, metal, and semi-precious gemstones. The focus is on the cartographic and artistic techniques and representation.  The base of the map is quarter-sawn white oak veneer plywood.  In this, 773 holes of 4 sizes (depending on land area) were drilled on a 2.54 cm grid to represent the continent of Australia. Copper wires (2 different gauges) were used to represent driving and train travel. Alkaline saline lakes that were sampled for resident microbiota were represented with amethyst; the one sampled acidic saline lake (pH 3.5) is represented using rose quartz.  The stromatolites at Shark Bay are highlighted with a green diopside.  Finally, anywhere we stayed of note is represented with one (or more) red map pins.  The final product is 113 x 103 cm in size at a scale of 1:4,118,400
For more of my woodworking, please visit  https://storymaps.arcgis.com/stories/786accc3c7754c469c72c82dbc7b721b
Overall map. 1/4 sawn white oak ply with walnut frame. Osmo finish (a poor choice, as wax and lotsa little holes don't go together).
Map with 1" grid and Australia on top of plywood. Drilling starter/reference holes. Wine cork on drill bit to prevent damaging wood upon drill-through.
Back. French cleat mounting system
Closeup of the SW. Two gauges of copper wire, red map pins, and most of the stone insets. See content section for more detail.