Gallery
White Oak Sales Desk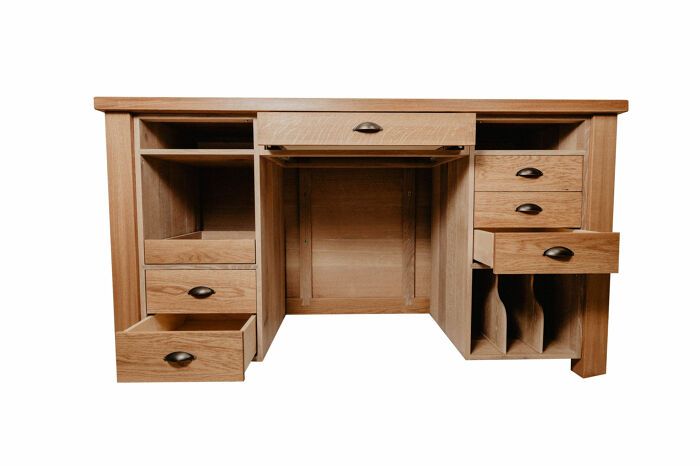 I used quarter sawn white oak for the front / side panels and all of the boxes within the desk. Flat sawn white oak was used for the frame and top. The maple drawers add a nice contrast to the beautifully distinct oak look. All of the joinery is traditional mortise & tenon, drawbore mortise & tenon, dovetails and sliding dovetails made with a combination of power and hand tools.
Designed and built to look traditional and timeless, a combination of Rubio Monocoat 'Bourbon' and 'Smoke' create a nice combination of colour. All of the quarter sawn oak was stained 'Smoke' and all of the flat sawn oak was stained 'Bourbon'. The maple drawers have 2 coats of a clear satin lacquer and full extension soft-close drawer slides. 
Everything I've learned about cutting dovetails, I've learned from watching Mike Pekovich's videos. This was also the first time I've used sliding dovetails and it was definitely a lesson in patience and precision.
Back of desk service side w/ drawers open Photo: Carlin Anquist Photography
Front of desk, customer side Photo: Carlin Anquist Photography
Dovetail drawer detail Photo: Carlin Anquist Photography
Draw-bore mortise & tenon frame detail Photo: Carlin Anquist Photography
Back of desk service side close up. Photo: Carlin Anquist Photography