Gallery
Walnut Keepsake Box for recent art school grad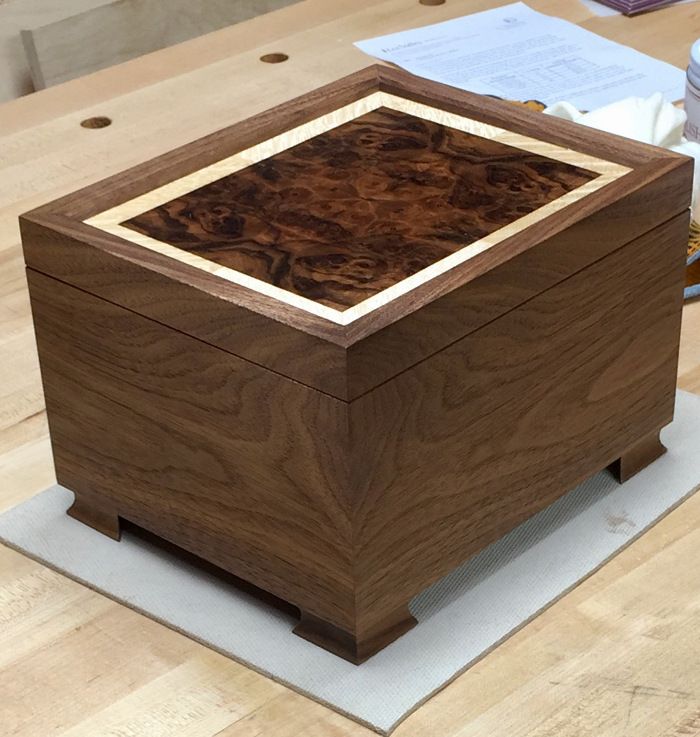 I usually go with quarter sawn or some other "tamer" wood grain for small boxes with grain matching mitred corners because it is easier to get a good match and the box is more stable.  The end result of this is a straight grained look all around the box, with matching corners, and mitre keys for joint stability ….definitely not what I envisioned for an art school grad.
I had a beautiful hunk of walnut sitting in the shop, left over from another project, so on a lark I decided to go for it.  I liked the way all 4 corners came together so rather than detract from that with mitre keys, I developed a method for hidden mitred tenons on thin stock using a plate joiner.  The mitred corners are incredibly strong and stable.
I liked the way the mitres came together with the interesting wood patterns in the walnut. Rather than detract from that with mitre keys, I used hidden angled tenons, 3 in the base and 1 in the top of each corner.
Upper storage tray with signature
The milling process revealed a "bird" so I filled the voids with tinted epoxy and incorporated it into the middle tray.