Gallery
Gimson round oak table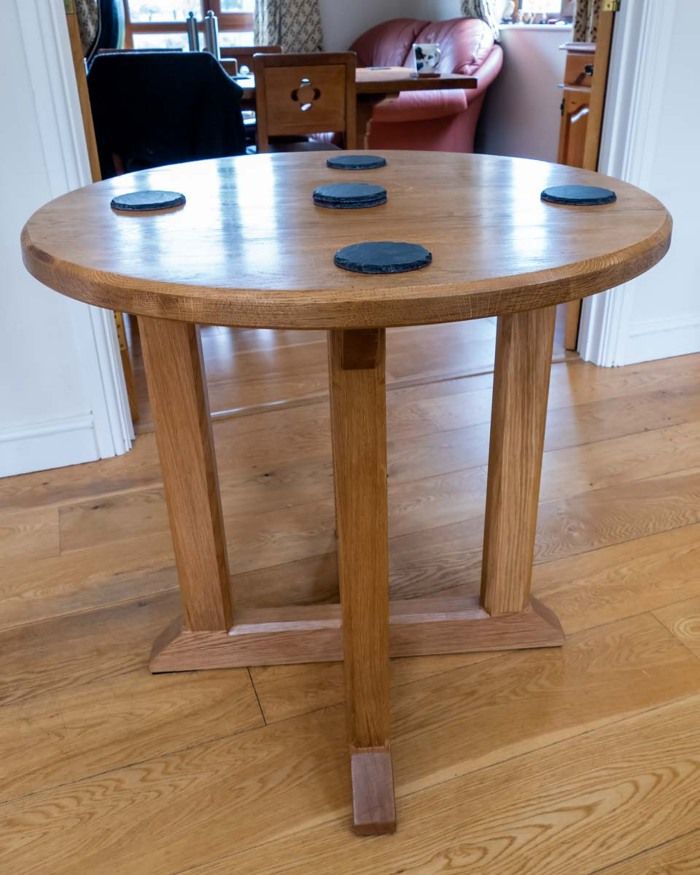 This Gimson style table is another item made of reclaimed oak. It's a slightly reduced-size version of the famous Gimson, somewhat larger, dining table and is for use as an extra working surface in the kitchen as well as for eating casual meals – or sitting around whilst gossiping and eating cake fresh out the oven.
The joinery is M&T, housing and pinned bridle joints. The bridle joints were made slightly loose to allow for expansion/contraction in such hefty pieces, with 16mm diameter dowels used as the pins.  The M&T joints are made with a Domno as they're buried, not through; and so invisible.  There are chamfers everywhere!
The top is not attached but kept in place by it's sheer weight and two sets of brackets screwed to the underside that locate over one of the upper rails of the underframe. I did want to decorate the edge with Cotswold-style diamond chip carving but the ladywife opined that these would be crevices for stuff tossed out by cooking peparations performed on the top.
Those ladderback chairs are made from green ash with Cornish elm-bark woven seats. Me and t'ladywife made one each when on a chair making course with Mike Abbott, a fanous chairmaker living and working on the Worcestershire / Herefordshire border in England.
The finish is Liberon Finishing Oil for the underframe and Osmo Top Oil for the table top. The latter is tough stuff made for wooden kitchen worktops.