Gallery
Oak trestle table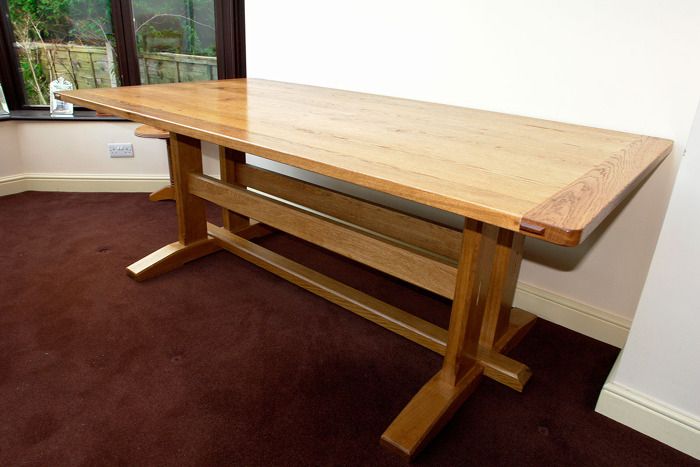 The furniture styles I like making most are the less cluttered Arts & Crafts styles, including The English Cotswold style, Mission, Greene & Greene …. but also Shaker. The English Cotswold style appeals because its plain but over-engineered ("stout" in North American) and does have minimal but very effective decorative aspects.
This trestle table isn't a copy of any particular design but is made up of various traditional style-elements found in furniture like that of Ernest Gimson and the Barnsleys. It's mostly English oak with some elements of American white oak –  because the donation of timber involved contained both.
The top has a central set of four planks of English oak with the two outer long planks and the breadboard ends of American white oak. This is what makes the slight colour difference that gives the framed-centre look.
The planks came rough from the sawmill but were well seasoned by the time I got them, mostly in 8/4 thickness with some 12/4. The intial parts were all dimensioned with the planer/thicknesser and the table saw.  After that, everything was detailed and refined with hand tools. 
The trestle underpart is a single (glued-up) element but the top comes off as it has an under-beam notched to fit exactly over the top cross-beams of the trestle ends. The top can be screwed on too but has never needed it as it's so heavy; and kept in place on the trestles with the notched-beam joinery.
It weighs a lot – it takes two to pick up and move the trestle and the same for the top.