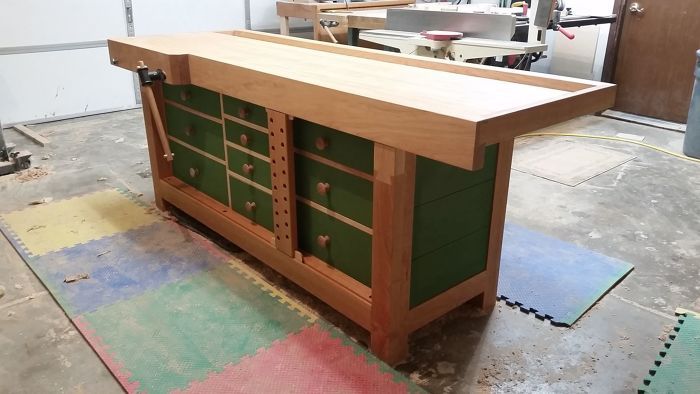 Thank you Matt Kenney and Mike Pekovich for the wonderful plans for this dream workbench. It is the most fun I have had making anything, and I wish I could make another one. If you're thinking about getting into one of these I think the overall cost was in the $2000 range for materials, and it took me over 200 hours to make. But, if you don't go with cherry and hard maple, and solid birch for the drawers, you could do it for a lot less and still have a very nice bench. I loved what Matt and Mike did so much though that I only changed the color, and added the tool catch into the top. My one regret is that there is no tail vise. I want some sort of work holding device at the tail of the bench and plan on modifying it someday to incorporate a sliding bench dog or something like that.
I put the Vice handle on the wrong side and regret it. I wish Lie-Nielsen had made it easy to switch but otherwise it's a super awesome vise. I love it.
Thet decorative dovetail is a "smooth move." I don't want to talk about it ;-)
I know it's considered a travesty. But I pinned the drawers. I like that it's different, and I like the way it looks, and so far after a few years use, they're solid.
I regretted not having a work holding vise so I just finished installing a Benchcrafted Tail Vise this weekend. I also added the swing stools. Expensive add ons but worth the money in my opinion. It is officially my dream bench. Although I'm thinking of adding a few coats of finish to darken the green, which is too bright. I grow to love the quirks of my work though so I might just leave it.