Gallery
Cabinet in cherry and "black and white ebony" veneer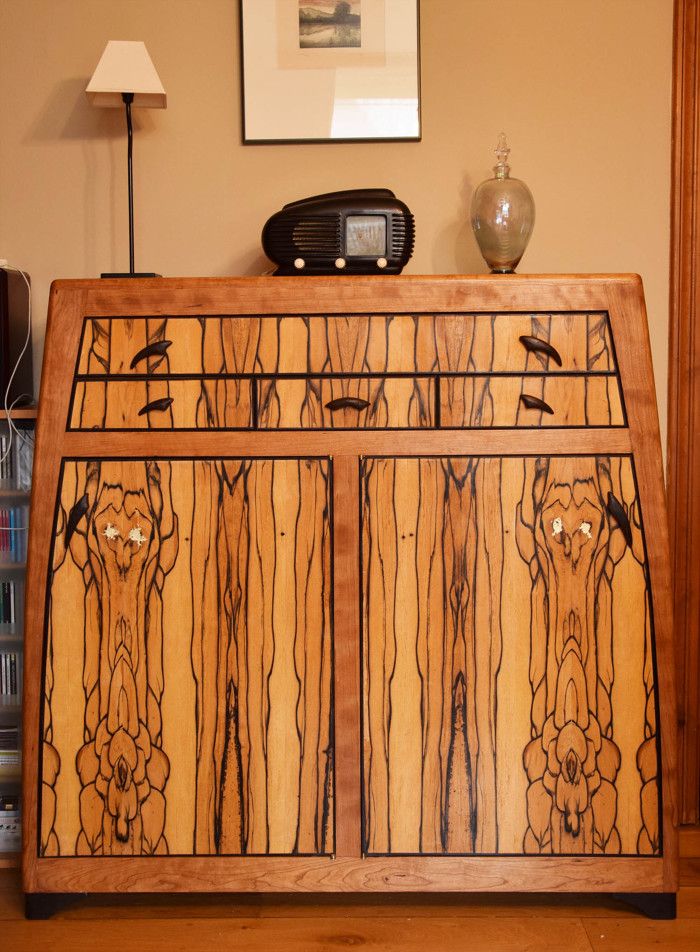 The curved sides of this cabinet are made made from 15 mm thick steam-bent boards of cherry. 
I have textured the top and sides by routing parallel grooves into them, an idea I got from John Lee (check http://www.johnleefurniture.com, he's a wonderful designer). The end result provides a somewhat "retro" effect, not unlike the design of some of the vintage radios from the forties and fifties I used to collect as another hobby of mine. Drawer sides are maple and drawer bottoms cedar.
The drawer fronts and door panels are made by applying "black and white ebony" veneer to 18 mm plywood panels, using Titebond for cold press veneering. The veneer is applied using a home-made vacuum press.The edges of the plywood are lined with strips of wengé. Drawer pulls, door knobs and legs are also wengé.
Black and white ebony (Diospyros malabarica) is a South-east Asian hardwood related to ebony, and has a striking black and white pattern. It's quite expensive and therefore available mostly as veneer.
The veneer had a few holes in it due to knots. Rather then trying to hide those, I chose to accentuate them by filling them up and applying gold leaf.
Feel free to check my website for more details on the building process.
— Bernard Delaey, Belgium – http://delaeywood.webnode.be