Gallery
edgeclamp made of scrap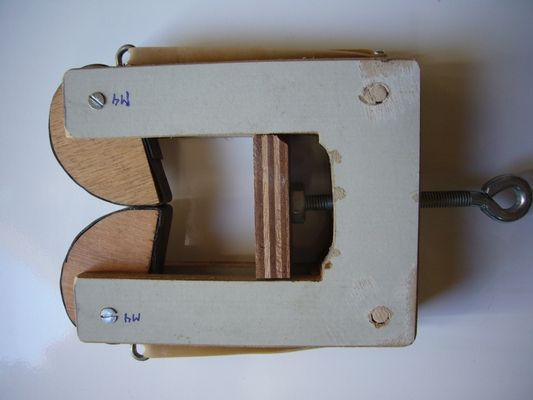 This is an edgeclamp with Bernoulli-spiral clamping feet.
A drawing of this spiral you can find on the internet, and on your inktjet printer you
can give up the scale you wish, so you have a drawing of the wanted size.
For fixing the feet on the frame you can drill a hole of 4mm through the feet and one side of the frame and a hole of 3mm in the other side of the frame. This 3 mm hole you can use as a nut to fasten the bolt.
To keep the feet inwards I used rubber bands, otherwise the feet won't clamp themselves to the workpiece.
The pressing point of the spindle is a shortened 10mm bolt, in wich I drilled a hollow in the head.
The size of this clamp depends on your wishes, or the thickness of your most used workpieces.
It's a cheep solution for an more expensive clamp.  
Sorry, if my English is perhaps not so well (I'm living in The Netherlands)