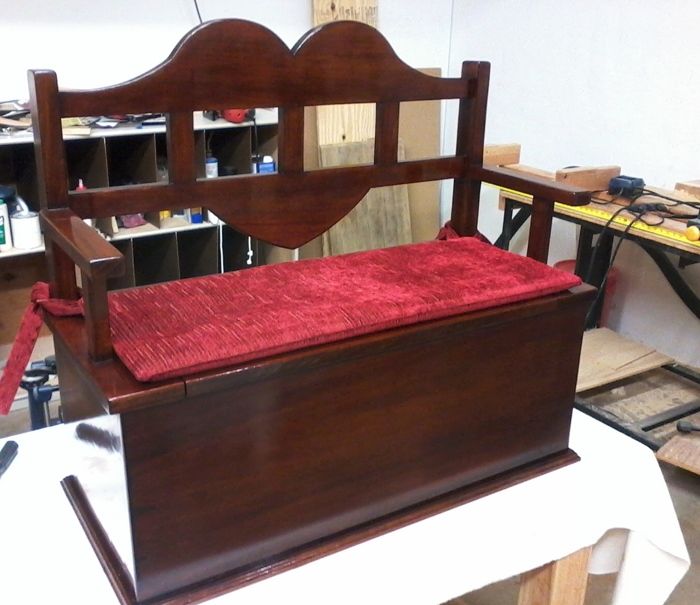 Made for a friend. All of the 16 mortise and tenon joints were cut by hand and the chest boards were jointed with a very old plane. Corners were mitered and reinforced with maple keys. Lid has soft-close hardware. Made out of poplar, dyed, and finished in a french polish, of sorts. And yes, I made the cushion as well.
The poplar used here was a very two tone collection of boards. After it was dyed, oiled, and coated with a good garnett shellac it was transformed into a very even color with enough grain pattern to make it attractive. The top, in particular, had a nearly solid green board and the other solid blonde. When I finished you couldn't tell them apart, and yet the grain pattern of both still came through. Thing is, with this type of wood you should give it lots of color or none at all. A little bit will be blotchy and grainy. I used the Transfast brown mohogany. Oddly, after testing a few pieces, I tended to have the best results applying it directly without wetting the boards. The oil worked to even out the pigment and the shellac brought it all together.
The top was secured with cleats and screws. When she outgrows the back rest, i can replace the top and add handles to the side.
Glue squeeze out will bite you in the backside if you're using a waterbased dye. You can see a few spots here on the top. Some Transtint in the shellac helped to blend those in.
Close up of the Keys after the addition of the shellac.
As always I started out in Google Sketchup. Some of the dimensions changed but most were as designed.
Best guess, there's at least 300 years worth of planes here. Used these to fine tune the boards for the body of the chest. The Blonde stripe came out darker than the green when finished.