Gallery
QUB Farmhouse Table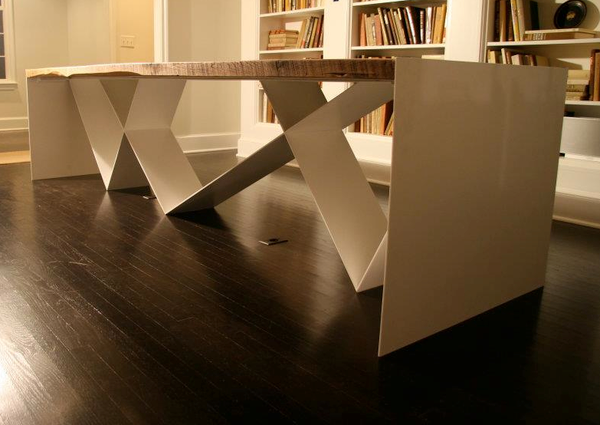 The QUB Farm-House Table is the Square Form realization of a Darryl Carter Inc. design. This massive table is 10′-2″ long, 36″ wide and 2′-6″ high. It seats 8-10 diners comfortably.

The reclaimed wood brings a lively, warm and inviting feel to this otherwise modern table. The tabletop is 8/8" reclaimed white oak. The reclaimed wood has unique character and frequent evidence of its former life as joists in a barn. There are small nail holes, cut outs, and one side has a live edge.

The intersecting angles that serve as the tables base make this physically heavy table appear to be visually quite light. They are fabricated from powder coated steel plate. The plate is 12″ wide, and 1/4″ thick. The angles from the base are carried up through the wood tabletop bringing the eye down to the.
See more of our work at www.SquareForm.net