Gallery
Paws Pad When Maws Mad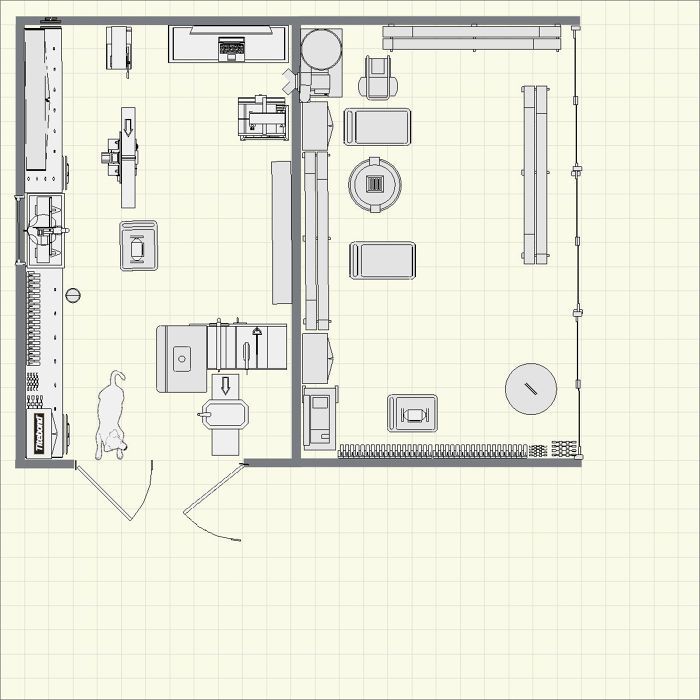 Well after 20 years; of puttering around in our two car garage; Miss america had had enough! She was tired of having to share the garage with my woodworking and endless saw dust I tracked into the house. This was an epiphony. So, in 2008 I built my cozy woodshop (11 ft. X 18 ft.). This was also when I discovered how useful Fine Wood Working.com was in the planning and construction of said sanctuary. There was an article that I saw in Fine Woodworking about a one car garage shop and it spoke to my situation. From that moment; as if a match had lit a fuse to a powder keg; I was on my way to build my slice of heaven. I had dabbled in wood working; but never seemed to catch the bug. Why was that? No dedicated space! The journey has been great! Thanks to all the great help from Fine Wood Working.com and those retailers that have provided all the tools and supplies. In 2009 I added an attached annex (12 ft. x 18 ft.) to house my 60 gallon compressor, cyclone dust collection, wood storeage racks and flameable liquids cabinets. The main machine and bench room is warmed by an electric heater and cooled by a small ac widow unit.
Main Machine Shop: Powermatic 64A w/ Porter Cable 7518 Router Insert, PM 6" Jointer, PM 18" Drillpress, PM 14" Band Saw, Festool Kapex Compound Miter Saw, Jet 16x32 Belt Sander.
In the Annex Attached Barn an Oneida Super Gorrilla Cyclone Dust Collector, Quincy 60 Gallon Air Compressor,Flameable Liquid Storeage cabinets, wood racks, and Clamps.
Main Bench with Kapex Compound Miter Saw, and 2 Kregg Fences 8 ft. either side of saw.
From front to back Mchines include: PM Table Saw, PM Jointer, Jet Belt sander, PM Band Saw, and PM Drill Press. Benches are Rock Maple with two rows of bench dog holes and T-Tracks for Kregg fence adjustment.
Annex Attached Barn Door Structure has the Copressor Plumbed to Main Machine room, and the Cyclone Dust Collector. This cuts down on the noise and heat. The Annex Plenty of storeage for Wood, Flameable liquids, Clamps, and sharpening station.