Lonnie Bird Inspired Toolchest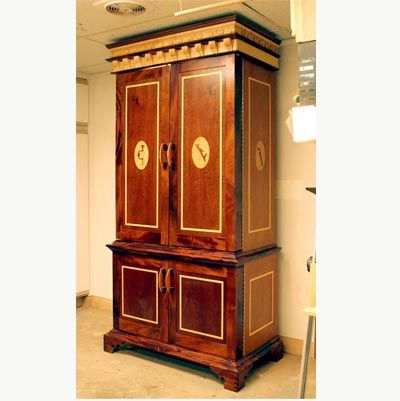 This is a cabinet was inspired from a feature article and video clip in FWW about a secretary that Lonnie Bird built. This furniture style doesn't match the rest of my house, so I decided to make it for the shop. It features my first attempt at inlay work and various different types of joinery. All the inlay veneers were resawn in the shop. I had a very large piece of figured mahagony (2'x12′), which had a few twists that I worked through. That mahagony, plus tiger maple, tulipwood, and paduak compliment each other well.
Simple double bevel marquetry resawn in the shop and drum sanded to thickness. The top crown was frankensteined together from leftover decorative trim from other projects. The frugal woodworker.
A few secret compartments. One in the pullout column, and 8 false drawers above the nooks.
This project was a study in joints. The doors have through tenons with a spline, and the feet feature through dovetails. The project also has half blind dovetails as well.
These handles were fun. Lots of little curves. They are made of tulipwood, maple dowels, and paduak. Amazingly, none have broke off after all these years.
There is plenty of room for everything. The lower level holds powertools that don't get used much. All the little storage racks took several weekends to get right.