How-To
A Quick Way to Clean Up Half-Blind Dovetails
Routing away half-blind dovetail waste can be a risky proposition. Mike Pekovich's trick is to add a fence to his router base to prevent routing past the lap line.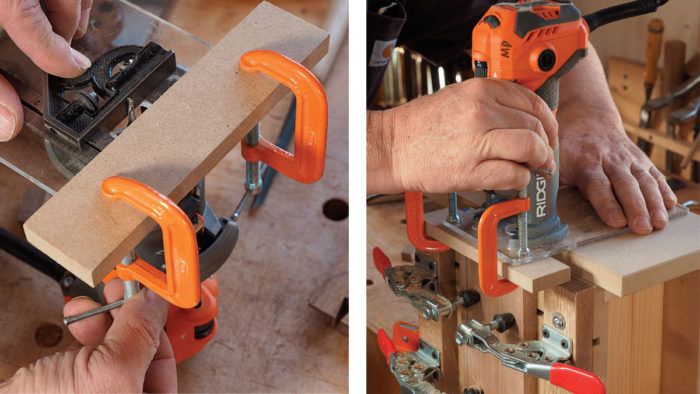 This process is similar to my method for routing regular dovetails, but unfortunately a straight bit is the only option for half-blind dovetails. Again, set the bit depth to hit the baseline. But this time, add a fence (pictured above) to the base to prevent routing past the lap line. Get as close to the sidewalls as you dare, but be prepared to do some chisel work to finish up the corners. Use a pair of skew chisels or a fishtail chisel to sever the end grain in the corners where the router bit couldn't reach, then pare the waste with a bench chisel.

Add a fence to limit the depth of cut. For halfblind dovetails, clamp a fence to the router base to create the inset for the dovetail socket lap.
Stay clear of the pins and clean up by hand. With no bearing to guide the way, you'll have to be careful not to rout into the pins. To clean out the waste after routing, start with a fishtail chisel or a pair of skew chisels and sever the end grain into the corners of the sockets where the router bit can't reach. Then pare the walls with a bench chisel. Leaving the tape in place during this process makes it easier to check your progress.
From Mike's article in Fine Woodwork #282 – 
| | |
| --- | --- |
| | Mike Pekovich's simple stand holds the work for every step of the dovetailing process. |
More on FineWoodworking: