An underdog for the underdog: Woodworking for everyone else
Most people choose their own career paths, others "fall" into one. For Char Miller-King, it was all purpose-driven.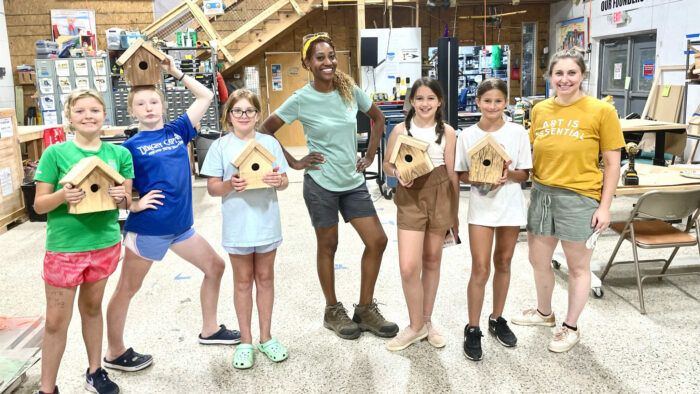 I used a borrowed drill for the first time in 2003 to build a bed, based on one I had seen in a store. After all, I could not afford furniture. The lumber cost me a measly $50 and the cherry stain from Ikea was less than $5. If you think back 20 years, there was no YouTube, Facebook, or iPhone; all I had to go on was sheer determination and a catalog photo.
After an arduous three months, my platform bed was complete. I would go on to sleep on it for the next seven years and then go on to build for The Home Depot.
This project lit an inextinguishable fire in me to build. With little access or connection to other builders, I spent every dollar I earned on inexpensive power tools and searched the internet for inspiration.
There was the occasional two-hour class at a local hardware store, but I was always the only one. The only woman, the only person of color, the only one under age 50. Was I odd? Where were the others like me?
By 2015, I had built up enough courage to leave my corporate job and pursue woodworking full time. Yes, it was a knee-jerk reaction to the perils of bureaucracy in office politics; yes, I wanted to be my own boss; no, I did not have enough savings to maintain my lifestyle. Here is the kicker: I also have four children. Thankfully, with the support of my husband, I took a leap of faith into the unknown.
It would be another two years before I would find a space that welcomed me. A makerspace right outside Atlanta, Decatur Makers. Here, there was a fully functioning woodshop in addition to welding, 3D printing, laser engraving, community outreach, and so much more. Decatur Makers is also the place where I grew my teaching roots and fell in love with sharing my passion for making with others. Teaching is an unexplainable joy that lights my soul on fire, especially when I am teaching young people.
This newfound love didn't come without consequence as I began to gain traction as a teacher and visit other locations. There were condescending looks, challenging adult students who questioned my every word, and the most disheartening moment. In a class where students were going to build birdhouses, I made a prototype to share, only to have one of the class volunteers question my methods and proceed to dismantle my house and rebuild it. This was a low point for me. I was certain that if I had been an older white male, this interaction would have never taken place. People treat the underdog differently. I have to stand up for those like me, be an example, and soldier on.
The confidence that was built that day is what I carry with me and it's the energy that I take to every class, in a role as a full-time traveling woodshop teacher. The tenacity to stay the course and lean in has opened up doors that I never thought possible.
This is the part of the story where I am forced to sheepishly toot my horn, to show you that no matter your background, disadvantages in life, or lack of resources, dreams can be reality as long as you stay the course. To date I have been featured in several woodworking magazines and now Fine Woodworking! I have worked alongside some of the top carpenters and woodworkers on television, Clint Harp (Restoration Road), Tom Silva, and Kevin O'Connor (This Old House and Ask This House), teaching the Harlem Globetrotters how to use power tools on the Emmy nominated NBC show, Play It Forward, and had the triumph of being the first Black woman to appear on The Woodsmith Shop on PBS in its 18th season.
Through the power of social media, the underdog can be seen and heard. My only hope is that those who are in my shoes will understand the journey so they can appreciate the victory!
| | |
| --- | --- |
| | Try a new method, learn a new technique, be open to new possibilities. You might like it. |
| | Kate Swann explores why taking a woodworking class is so valuable and useful to woodworkers and furniture makers. |
| | Whether you're teaching Shakespeare or Shaker furniture making, the lessons are mostly the same. |