New kid in town
Meet the newest addition to the Fine Woodworking team, Amanda Russell.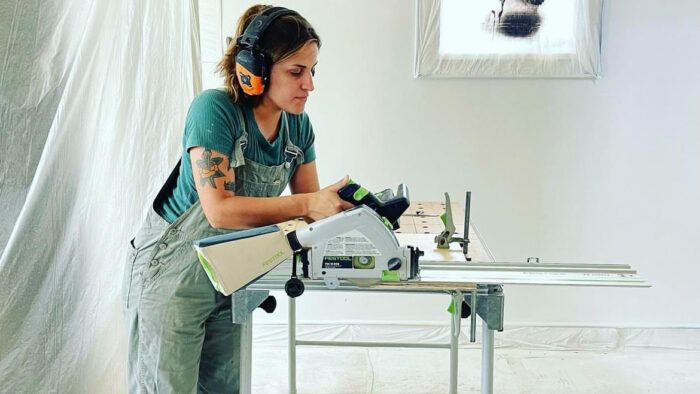 I am in the end of my first full week at Fine Woodworking, which is just one of the many "firsts" I am experiencing in my life right now: a move halfway across the country, settling into my very own space in a communal shop, and a new career path. Amidst all the changes, I find myself feeling very centered and at peace. It is a reminder of what woodworking has brought to my life: purpose, direction, and community. I feel at ease with a group of people who can shamelessly debate which brand of pencil is best. In case no one told you: it's a Musgrave Harvest 320 Professional #2.
Woodworking has been an important theme my entire life. I grew up in El Paso, Texas, and spent much of my childhood in both my grandfather's and father's garage shops. Both restored antiques and grandfather clocks, and built their own furniture. Creativity was always encouraged, and I took interest in writing and drawing at an early age. I spent my first two years of college as a Creative Writing major, though quickly discovered traditional schooling was not for me. After pausing and giving myself time to find direction, I rediscovered woodworking with a fresh set of eyes.
I moved to Austin, Texas, to complete the Woodworking Certification Program at Austin Community College, where I had the privilege of having both Michael Colca and Philip Morley as instructors. After completing my certification, Philip took me into his shop as an apprentice for four years. He has been my mentor and advocate throughout my woodworking journey, and I am eternally grateful to be under the guidance of such an incredible craftsman. His passion for woodworking and teaching confirmed this was my path.
During my apprenticeship, I did everything from furniture making and cabinet installation to building fences. I worked at a non-profit, where I ran their wood shop and taught beginners how to make approachable and accessible woodworking projects. Spent a year working at a sawmill, where I learned about kiln drying and wood properties. Both teaching and assisting classes at Austin School of Furniture allowed me to see woodworking from a different perspective. I'm certainly not an expert at any of these things, just someone eager to continue to learn and immerse myself in this craft.
As someone who—at first—did not see a version of myself in the world of woodworking, I truly understand the value of voice and representation. Along my journey, I've encountered so many different perspectives and approaches to woodworking. All share the same goal: growth and excellence in this craft. I would argue that woodworkers are some of the most giving people: through sharing knowledge and providing resources to other craftspeople, regardless of experience. As I packed away my belongings last week, I was overwhelmed with the amount of the tools I had that were given to me and how much kindness and support I've received over the years.
Fine Woodworking has been an accessible resource to woodworkers of all kinds for over 40 years. My goal as an Associate Editor is to provide the connection between our authors and, you, our readers. Showing different perspectives and approaches, while continuing to provide you excellence in craft. My hope is to engage you with knowledge and craftspeople that provide a new viewpoint and sense of belonging. To feel a part of a community is not necessary; in fact, many pave the way alone, but that path provides a way for others to broaden it.  It has been a privilege to feel a part of something larger than myself, and I look forward to sharing that with you.