Webinar: Three PantoRouter Jigs to Level Up Your Joinery
Replay Join the PantoRouter crew for a look at three new ways of using the PantoRouter to do more with your woodworking.
Sponsored by PantoRouter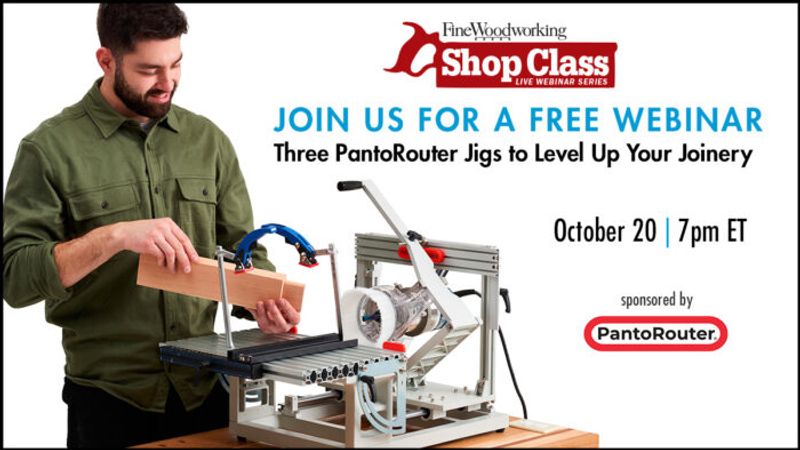 The PantoRouter Woodworking Machine All-In Package makes hundreds of M&T sizes and dozens of other joinery styles fast, easy, accurate, and repeatable. With a couple of additional jigs and fixtures, the PantoRouter becomes even more capable.  In this webinar we'll demonstrate use of an auxiliary table, a vertical work clamping jig, and our latest accessory, the vertical template holder adapter.
The auxiliary table makes stopped and through dadoes fast and safer than traditional methods. Deep beveled edges can be made without a massive specialty bit; cut rabbets, trim edge banding, profile edges and more. We'll show how we made the auxiliary table and share a link to download the plan with a template to make your own.
The table on the PantoRouter tilts to a full 90°, but clamping in the vertical position is tricky, so we created a jig to make vertical clamping super easy. We'll show how we made it and share another link to get the plan and printable template to make your own.
Our new vertical template holder adapter allows many of our templates to be held vertically. Sometimes it's easier to vertically cut mortises, tenons or both, plus twin mortise and tenon (one above the other) is also possible with this adapter.