Woodworking news — September 27, 2022
This week brings new tools from KM Tools, WoodRiver, and Woodpeckers.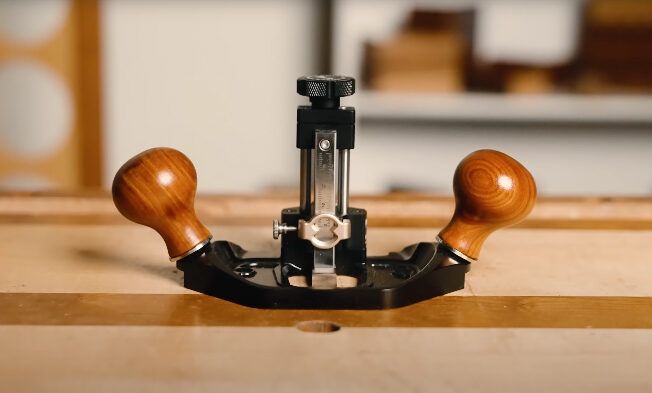 From KM Tools:
Find out more about the presale here: https://kmtools.com/pages/km17-router-plane-pre-sale
---
From WoodRiver:
Have you ever wanted to make professional looking jigs and fixtures, but don't have a CNC machine? This WoodRiver® Router Jig provides a method to produce slots and keyholes for 1/4″ T-bolts using a handheld plunge router with a 3/8″ bushing and 1/4″ straight bit (not included). This jig also has provisions for making handholes in two different styles. Injection molded from rugged ABS plastic, this jig will help you to make fixture slots with ease.
For more information: https://www.woodcraft.com/products/fixture-making-router-jig-woodriver
---
From Woodpeckers:
Strongsville, OH – Northeast Ohio tool manufacturer, Woodpeckers, recently released a new Protractor Head and a new Centering Head to complement their in-DEXABLE range of adjustable squares.
When your projects call for angles other than 45° and 90°, the new in-DEXABLE Protractor Head will be a welcome addition to your shop. The smooth-turning protractor can be adjusted to any angle between 0° and 90° both right and left. Built-in stops register standard angles (22.5°, 45°, 67.5° and 90°) quickly and accurately. All other angles are easily set to the high-contrast laser-engraved scale. Two large locking knobs and an 8″ long reference edge build confidence in your angle layout. When you're working straight and square, the Protractor is still a welcome partner in your shop. When locked square, it's a handy T-square with built-in scribing guides. The Protractor comes standard with an 18″ blade.
The Centering Head holds the blade at a 45° angle relative to machined 90° surfaces. Marking the two diagonals of a square locates center. Similarly, strike the diameter of a circle with the square resting on the outside in two different spots and you've located the center of the circle. Maintaining the scribing feature found in all in-DEXABLEs, Woodpeckers made the back of the centering head flat and the blade indexes to that side. It's a nice compact size for scribing parallel to the edge of your stock. The Centering Head comes standard with the 6″ blade.
Two sizes of Combination Head, two sizes of Double Square Head and blades 6″, 12″ and 18″ long complete the in-DEXABLE range. All heads fit all blades. Each head is available with its most popular blade length or as a head only, if you already have an in-DEXABLE blade or two.
---
Also from Woodpeckers:
Gluing up table tops and large panels often turns into a wrestling match between you and a bunch of clamps you're trying to keep upright and evenly spaced. Creative genius, Izzy Swan, invented a clamp carrier that dramatically speeds up the process and eliminates the stress. Woodpeckers has worked closely with Izzy in creating our new Xpander Clamp Systems. The Xpander works with most any brand of parallel jaw clamp and keeps 4 clamps perfectly spaced, from butted up right next to each other up to 15″ apart on the smaller model and 17-1/2″ apart on the larger. Adjusting the spacing is as simple as sliding the two outside clamps in or out…the linkage system automatically keeps the middle clamps straight, upright and evenly spaced. When the job is done, just slide the clamps together and store them away as a single unit.
---
If you have a tool release or news item you'd like considered for new, weekly roundup of woodworking news send it to [email protected].