Woodworking news – May 9, 2022
Cordless pin nailers—so hot right now! New tools from Makita, Dewalt, Milwaukee, and Woodpeckers and news from The Furniture Society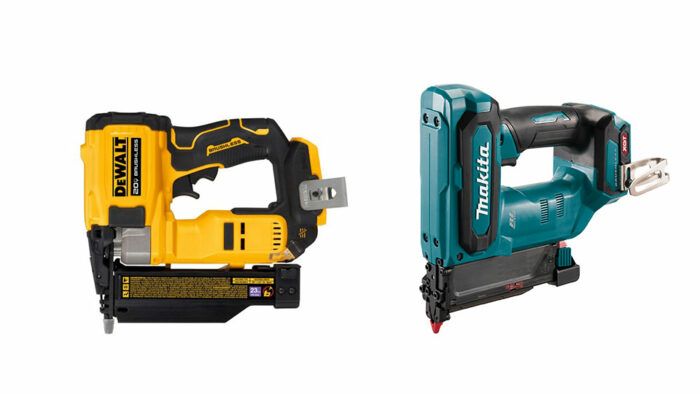 Makita announces interesting cordless options for woodworkers
40V max XGT® Brushless 9-1/4″ Circular Saw with Guide Rail Compatible Base, AWS® Capable (GSH03), 40V max XGT® Brushless 10-1/4″ Circular Saw with Guide Rail Compatible Base, AWS® Capable (GSH04)

These two powerful saws combine efficient cutting and increased capacity with the convenience of a guide rail compatible base. When used with a guide rail (sold separately) these saws offer a more portable option over a table saw for precision cuts and breaking down sheet.

40V max XGT® Brushless Pin Nailer, 23-Gauge (GTP01) 

This powerful and portable Pin Nailer delivers up to 15% faster firing than the 18V LXT® model XTP02. It will drive six different lengths of 23-gauge nails, with a max magazine capacity of up to 120 pin nails.

40V max XGT® Brushless Compact Router (GTR01Z) 

This full-featured compact router delivers up to 1.5HP of performance for faster cutting. Includes 5 speed settings to match the speed to the application.
---
DEWALT® Unveils ATOMIC COMPACT SERIES™ 20V MAX*

Brushless Cordless 23 GA Pin Nailer, Driving the Transition to Cordless Convenience in Woodworking Applications

TOWSON, MD May 2, 2022 – DEWALT, a Stanley Black & Decker announced one of its latest cordless innovations supporting the jobsite of the future: the ATOMIC COMPACT SERIES™ 20V MAX* Brushless Cordless 23 Ga. Pin Nailer (DCN623). With its high-output brushless motor, the DCN623 pin nailer is capable of driving 23 Ga. pin nails from 5/8-In. up to 1-1/2-In. in length into a variety of woods, including solid oak.
---
Milwaukee announces M18 cordless finish sander
The M18™ Orbital ¼" Sheet Sander is designed to replace corded sander performance with variable speeds ranging from 11,000 – 13,000 orbits per minute, and stain grade orbital finish. It delivers the lowest vibration in its class, enhancing comfort and control, while reducing fatigue. Its durable dust bag and universal hose adaptor decrease clean-up time and its two-step clamp system allows for quick and easy sandpaper changes. The M18™ Orbital ¼" Sheet Sander is built for professional carpenters needing to leave the best finish while removing the least amount of material.
Milwaukee is committed to improving productivity by providing performance-driven and trade-focused solutions so users can perform an entire day's work on one battery system. The new M18™ Orbital ¼" Sheet Sander is fully compatible with the entire M18™ line and is a true testament to Milwaukee's focus on investing in game-changing technology that truly delivers breakthrough solutions for users.
---
Woodpeckers announced AutoAngle Drill Guide
Strongsville, OH – Building on the best features of their Auto-Line Drill Guide, Ohio tool manufacturer, Woodpeckers, has just launched the AutoAngle Drill Guide. Both Woodpeckers drill guides let you drill precise holes on projects too large to fit in a drill press. The AutoAngle adds the ability to drill at an angle as well as perfectly square.
The base of the AutoAngle has machine-engraved guides. Line those up with the layout lines on your material for pinpoint accuracy of your hole, at any angle. Product Engineer, Ben Wollenberg, designed a protractor base that employs a "virtual pivot point" that is in line with the top of your material. "That means the entry point of the drill bit is the same whether you're drilling vertically or at an angle," said Wollenberg.
But Woodpeckers didn't stop there—they added a versatile fence and stop system that makes it a snap to position the AutoAngle at a fixed distance from both the end and edge of your stock. Multiple flip stops can be used at the same time to create a repeatable pattern of holes. The Basic AutoAngle includes the fence and a pair of 6-1/2″ guide rods. The Deluxe AutoAngle adds six 11″ guide rods and two flip stops.
The AutoAngle features a 1/2″ chuck supported by a pair of sealed ball bearings. Your drill attaches to a standard quick-release hex shank. It works with any corded or cordless drill. There's a stop collar for accurate depth control. The stop locks onto a taper milled in the column, minimizing downward drift of the stop with repeated use.
Complete details on the AutoAngle Drill Guide can be found at the Woodpeckers website: woodpeck.com.
---
Upcoming Furniture Society Conference:
FS22: Working Together
June 8-11, 2022
Programs You Won't Want to Miss:
About FS22: Working Together, TFS's first virtual conference
The Furni­ture Society is proud to present our first virtual confer­ence, FS22: Working Together, taking place June 8 – 11, 2022 and offered through FS Connects, our online plat­form. FS Connects has enabled us to broaden our impact and to look crit­i­cally at furni­ture's history through a roster of presen­ta­tions, by high­light­ing our members' work, and by demon­strat­ing furni­ture's role in build­ing a better future. In turn, FS Connects allows us to expand the types of presen­ters that we can work with and to amplify our collec­tive expe­ri­ences by provid­ing low-cost oppor­tu­ni­ties for learn­ing, engage­ment, and community building.
Here are just a few mentors and reviewers lined up: Yuri Kobayashi, Michael Puryear, Laura Mays, and Russell Baldon
Visit their site for more info: https://furnsoc.org/fs-connects
---
If you have a tool release or news item you'd like considered for new, weekly roundup of woodworking news send it to [email protected].