Woodworking news – April 18, 2022
New tools from Oneida and Woodpeckers, and news from the Center for Furniture Craftsmanship and Innovation + Design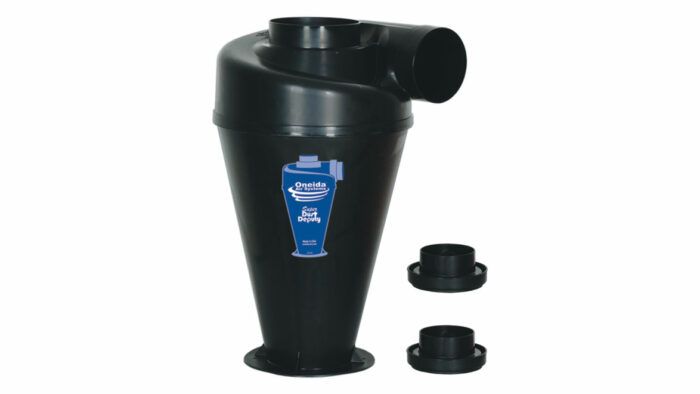 Oneida introduces their new Super Dust Deputy 4/5
SYRACUSE, NY (April 4, 2022) – Made in the USA, the new Super Dust Deputy® 4/5 by Oneida Air Systems is a cyclonic separator designed to work with nearly any 1 to 3HP single stage dust collector. It is the first separator that eliminates the need for right-sized fittings, allowing you the flexibility to change your setup with ease. Based on the original patented Super Dust Deputy— which connects to a single stage dust collector and separates 99% of dust and debris from the airstream to eliminate filter clogging and suction loss—the new Super Dust Deputy 4/5 includes two 4" OD adapters that allow the cyclone's inlet to connect to 4" or 5" hose and the outlet to connect to 4" or 6" hose as needed. While the Super Dust Deputy 4/5 is designed to fit 4", 5" or 6" flex hose right out of the box, it can also be connected to ducting with additional adapters. Made from static dissipative material to prevent static buildup, the 4/5 cyclone measures 14" wide by 23" tall and is compatible with all Super Dust Deputy drum kits from Oneida Air Systems. It can also be mounted to any airtight drum or barrel. The Super Dust Deputy 4/5 is available now from oneida-air.com for $179.95 MSRP. It is sold with the 4/5 cyclone, two 4" adapters, gasket, and hardware.
Learn more about the Super Dust Deputy 4/5.
---
Woodpeckers introduces their new Mortise Match table for the Festool Domino 500 & 700
Woodpeckers new MortiseMatch does the same thing for the Festool Domino joiner that a router table does for a router…turning a hand-held power tool into a precision stationary machine. Your Domino mounts to the MortiseMatch and you bring your work to it, instead of taking the Domino to your work. MortiseMatch simplifies working on small stock, keeps your work better aligned to the cutter, and speeds up the mortising process. Mounting takes just seconds, using two machine screws that thread into holes already in the base of your Domino (both models).
Like all Woodpeckers tools, MortiseMatch is precisely machined and carefully inspected in our Strongsville, Ohio facility (just south of Cleveland). For a limited time, we're offering MortiseMatch at a special introductory price. Order before May 2, 2022 to take advantage of the special and be among the first to own this amazing new tool. Delivery is scheduled for September 2022.
The MortiseMatch currently sells for $649.99
Learn more on Woodpecker's website
---
ISFD 3rd Annual INNOVATION + DESIGN  — Maker/Designer Juried Competition & Exhibition Now Open
Calling all professional and student maker/designers and woodworkers to enter by June 30th
April 13, 2022, High Point, NC—The International Society of Furniture Designers (ISFD) is now accepting applications for the INNOVATION + DESIGN 2022 competition and exhibition. This is a juried furniture industry sponsored competition intended for professional designers who make their own product and the next generation of serious woodworking students who are anticipating a career in the custom wood and related home furnishings industries. It is open to professional maker/designers and students within the continental US and is designed to showcase the products and designs of the top independent furnishing's makers in the seating, occasional tables, occasional storage, lighting, accessories, and dining room furniture categories.
For information on entering, visit the Innovation + Design website.
---
Center for Furniture Craftsmanship Names Matt Hoggle as Executive Director
Rockport, ME – April 12, 2022 – The board of directors of the Center for Furniture Craftsmanship is pleased to announce that Matt Hoggle has been appointed Executive Director, effective June 1, 2022. The Center is a non-profit woodworking school in Rockport, Maine that is dedicated to providing the best possible education for people who want to design and build functional, beautiful, and expressive work out of wood to the highest standard of craftsmanship. Matt succeeds Peter Korn, who founded the Center 29 years ago and led its growth into a world-renowned craft school.
Matt joins the Center from the Contemporary Austin where he is the Director of the museum's Art School at Laguna Gloria, an organization he has served for the past 15 years. In his role as Director, he has been responsible for all aspects of the Art School's operations, including programming for more than 600 classes each year, faculty and staff hiring and management, strategic planning and budgeting, and operational oversight of an 8,500 sq. ft. facility on a 13-acre campus.
Find out more information on CFC's website.
---
If you have a tool release or news item you'd like considered for new, weekly roundup of woodworking news send it to [email protected].