Oneida Air Systems Introduces New Dust Deputy 2.5 Cyclone
Larger cyclone maximizes suction power of today's wet/dry vacs.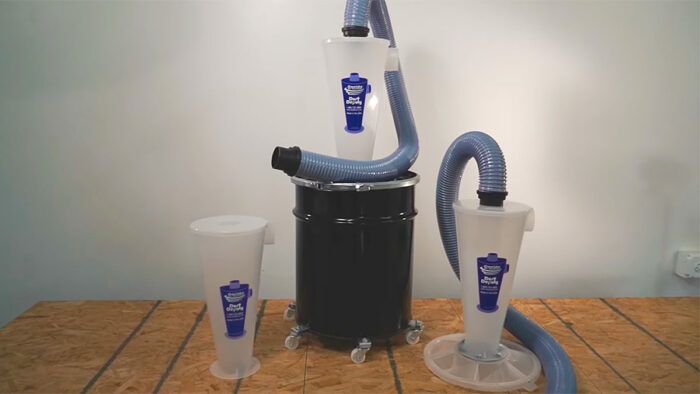 From Oneida Air Systems:
Oneida Air Systems, the industry leader in dust collection, introduces a break-through update to its flagship product—the new Dust Deputy® 2.5 cyclone pre-separator. Based on the original Dust Deputy—the revolutionary wet/dry vacuum accessory that pre-separates 99 percent of dust and debris from the airstream—the patented and American-made Dust Deputy 2.5 cyclone is optimized for today's larger, more powerful vacuums with 2.5" diameter hoses to deliver up to two times the airflow of other cyclone and lid-style separators.
Like its predecessor, the new Dust Deputy 2.5's cyclonic design uses centrifugal force to spin debris out of the airstream and down to the waste container, virtually eliminating clogged filters and suction loss, and increasing the lifespan of the vacuum's filter. At 15.5" tall, with an inlet and outlet designed to friction fit standard 2.5" hose cuffs, the anti-static Dust Deputy 2.5 cyclone is ideal for woodworking activities that generate dust at a rapid pace, such as sanding, sawing, jointing, and planing. In addition to wood dust, it excels at collecting other types of dust and debris, including drywall dust, cooled ash, pet hair, water, and more.
"We recognized a need for a larger cyclone to match the more powerful wet/dry vacuums that have become standard over the years," said Robert Witter, inventor of the Dust Deputy and President of Oneida Air Systems. "By delivering up to double the airflow of smaller cyclones, the Dust Deputy 2.5 more than meets that need," said Witter.
It also meets the needs of original Dust Deputy owners wanting to upgrade to the larger version. "We wanted to make it easy for existing customers to incorporate the new 2.5 cyclone into their setup; so we designed the Dust Deputy 2.5 with the same base and hole pattern as the original Dust Deputy," said Witter.
Made in USA and available now at oneida-air.com, the Dust Deputy 2.5 DIY ($54.95 MSRP) and 2.5 Plus ($79.95 MSRP) are sold with a cyclone, gasket, and hardware. The 2.5 Plus also includes a 5.5-foot cuffed hose and a reinforced, quick-release 5-gallon bucket lid.
About Oneida Air Systems
Headquartered in Syracuse, New York, Oneida Air Systems is a manufacturer of award-winning made in USA dust collection systems and components. From shop design to installation, our team of development, production, and support staff is with you every step of the way. For more information, visit oneida-air.com or call (800) 732-4065.