Woodworking in person or on the couch?
Online or in person, the best way to learn woodworking is the way that works for you.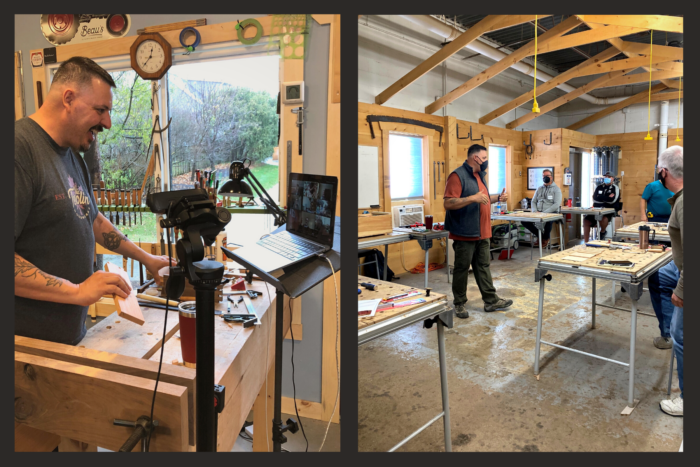 Woodworking content online isn't a new thing. YouTube videos and social media posts have been around for years. It's easy to get lost down the rabbit hole of the video after video, some DIY, some educational, and some for pure entertainment. But when it comes to learning in a group environment, do you go online or in-person?
Before the Covid-19 pandemic, this wasn't even really something to consider. Almost all learning was in-person, whether that was through a woodworking school, store, or event. But like most things, a lot has changed and adapted over the past 20 months and we have more options to think about. Now we all have our preferred learning styles, and even as I write this, I have my own teaching preferences. So as someone who offers both in-person and online group classes, here are some of my thoughts, things to consider, and feedback that students have shared with me. One of the greatest things that have stayed with me is the comparison to sporting events. Attend them in person and you've got that full live atmosphere, including the $18 beers! Watch them on TV and you've got all the close-up shots, replays, and commentary.
So, let's start with some points on good ol' fashion in-person learning. You sign up, show up, and spend time with the instructor and fellow woodworkers. This might be a single day or multiple day course, that can include lunch and breaks. So, what are some pros to this? Well, first and foremost you've got that in-person energy. You see and hear things right in the space you're in. There can be some chit-chat, jokes, and storytelling throughout, and you have the opportunity to see others' work. Some cons? When people gather around the instructor's bench to see things, it may be hard to get in there and get a good view. You may feel rushed for time or maybe even intimidated by others if you don't work as fast or aren't as skilled as them. There isn't a recording to re-watch, and you have to consider travel time and maybe some costs for food and accommodation.
Then there is online learning. Now for this comparison, I'm not talking about any pre-recorded videos. I'm talking about online classroom-style learning. This may be through any number of online platforms like Zoom or Google Meet. Similar to in-person learning, you sign up and show up. But this time you show up by logging into the online meeting. It might be a single class or it might be a course with multiple sessions, and you may or may not get somebody's break. So, what are some pros to online learning? Well, no commute time or travel costs. All you have to do is turn on your device, log in, and away you go from the comfort of your home/shop. Almost all platforms allow you to choose if you want your camera on or off, so you have privacy options and you get to decide your level of engagement. With the right gear, you can get some great camera views and access to recordings. There's also more opportunity here to learn at your own pace. Some cons? Poor camera quality, poor camera use, and a poor internet connection can make for an awful experience. There can be glitches with technology and there's always those first minutes of the meeting where participants figure out how to mute their mics. Some people find that they just don't feel that same connection and camaraderie that you get during in-person classes, while others enjoy the connection of chatting, emailing, texting, etc.
Whether your preference is in-person or online, taking classes is a great opportunity to improve your woodworking skills and try something new. Never veneered before? Take a veneering class! Want to learn how to use hand planes? Take a class on hand tools! Regardless of your preferred learning style, it's always good to keep learning… and remember, in order to understand, you must do.
---
| | |
| --- | --- |
| | Browse our collection of 100+ complete digital plans, including Shaker furniture, Arts and Crafts pieces, beds, chairs, workbenches, tool storage, and more. Join now for complete access. |
| | Get your copy today of Michael Pekovich's new book! |
| | In this video workshop, Mike Pekovich shows you step-by-step, how to build a traditional Shaker chimney cupboard using simple joinery techniques. |