GO Lighter & Tighter with Metabo HPT's New 18V MultiVolt™ Cordless 18-Gauge Brad Nailer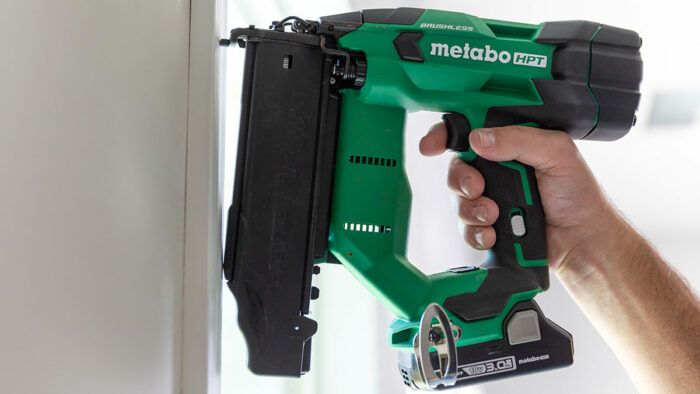 From Metabo HPT:
BRASELTON, GA. – The Pro Preferred Brand of Pneumatic Nailers*, Metabo HPT today announced the newest addition to its cordless nailer lineup with the 18V MultiVolt™ 18-Gauge Compact Brad Nailer (model NT1850DF). This brushless cordless nailer is 30% more compact and 31% lighter than its predecessor (model NT1850DES) at only 4.4 lbs., making it easier to fit into tight spaces and to nail crown overhead for hours without getting fatigued. It can deliver a driving speed of 3 nails per second with zero ramp-up time saving valuable time and increasing productivity. This compact brad nailer is a convenient alternative for any trim application offering the freedom to move without the hassle of dragging a hose, lugging a noisy compressor, or having to deal with gas cartridges. You can't go wrong with a cordless brad nailer that feels like a pneumatic and is similar in size and weight! 
This 18V cordless brad nailer easily drives 1,650 brad nails per charge with the included compact 3.0Ah battery (or up to 4,000 brad nails per charge with an 8.0Ah MultiVolt battery) while delivering the "feel" of a pneumatic – thanks to Metabo HPT's unique Air Spring Drive technology that uses compressed air to drive each nail. The NT1850DF cordless brad nailer drives 5/8" up to 2" 18-Gauge brad nails up to 0.31" in diameter. The tool-less depth of drive adjustment, now located on the left side, is easier to operate for right-handed users, which adds convenience to quickly change to flush drive or countersink into varying material. The side loading magazine is designed for quick nail strip replenishments. This cordless compact brad nailer has the capacity to accept 100 brad nails at a time. Choose between sequential actuation for precision nailing or bump fire mode for rapid nailing. It's equipped with a compact belt hook to hang securely from a tool belt and the narrower striking head makes for more accurate placement of brad nails. 
The brushless motor delivers more run time and extended durability with essentially no maintenance. With zero ramp-up time, there is no waiting for the tool to warm up –simply turn on the tool on the simplified control panel, and you're ready to go.It has the power to drive 2"brads into any softwood, trim and MDFas well as sink brads into hardwoods.For increased user safety, this tool features an LED light and aside-lock switch to prevent accidental firing.A long-lasting non-slip rubber grip helps maintain superior control and comfort during use.At only 4.4 lbs (without battery) and only 11-1/4"in height, its compact size is dramatically smaller and lighter making it much easier to grab and go.
The NT1850DF 18V 18-Gauge Cordless brad nailer is part of the expanding MultiVolt System of 18V and 36V power tools from Metabo HPT. GO lighter with 18V batteries or GO longer with the unique MultiVolt battery that works on both 18V and 36V tools to double runtime for up to 8.0Ah of runtime per charge and more power for ultimate versatility. Backed by Metabo HPT's Lifetime Lithium-Ion tool body warranty and two-year Lithium-Ion battery warranty there's ultimate peace of mind.MSRP $349.
This 18V Compact Cordless MultiVolt Brad Nailer comes with (1) 18V Compact3.0Ah battery (339782M), charger(UC18YFSL), no mar nose cap, safety glasses and a convenient carrying bag for storage and transport.For more information including the full line of Metabo HPT products and support, please contact 1-800-829-4752 or visit metabo-hpt.com. 
*Based on the 2014, 2015, 2016, 2017, 2018, 2019 and 2020 Product Brand Surveys in Builder & Developer Magazine 
About Metabo HPT(Koki Holdings America Ltd.)
Metabo HPT(the new brand name for Koki Holdings America-formerly part of the Hitachi group)offers an extensive line of professional grade power tools and accessories for woodworking, metalworking, drilling and fastening, concrete drilling and cutting, and outdoor power equipment products as well as a complete line of pneumatic nailers, staplers, compressors, and collated fasteners. From its headquarters in Braselton, GA, and satellite offices in the United States and Canada, Metabo HPT supports over 4000 retail locations and over 1000 authorized service centers. Metabo HPT is a brand within Koki Holdings America Ltd., theNorth American division of Koki Holdings Co., Ltd. Visit www.metabo-hpt.com.