Woodpeckers Launches Precision Taper Jig
A more versatile and accurate version of the classic design.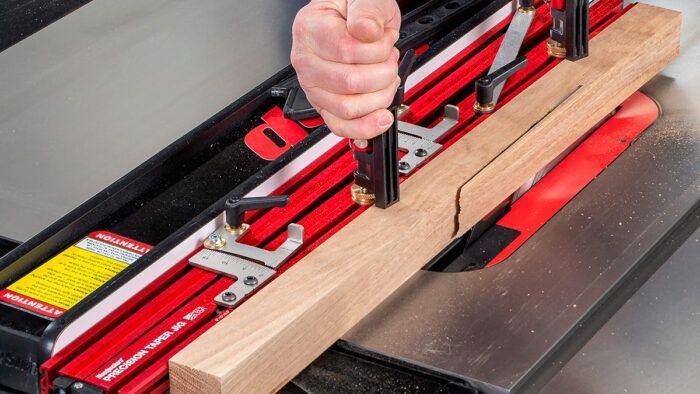 From Woodpeckers, LLC:
Northeast Ohio tool manufacturer, Woodpeckers, recently announced its new Precision Taper Jig, which offers instantly repeatable quarter-degree angle setting, material clamping, zero-clearance material support and length capacity that can extend up to 48″.
Product Engineer, Nate Duxbury, said of the design, "I was challenged to design a robust taper jig incorporating material clamping and precise angle setting. I hit all those targets and a couple more."
The hinged taper jig has been in the arsenal of small shop furniture makers since table saws were invented. It's use probably peaked during the 1950s and 1960s when "Mid-Century Modern" was born and tapered legs adorned almost every new piece of furniture. Duxbury has used 21st Century materials and manufacturing techniques to build a jig with accuracy and repeatability.
A sacrificial MDF sled on the bottom and quick-release clamps riding in the extrusion tracks secure your work safely. The sled also provides zero clearance support, eliminating bottom-side tearout. With a clamping range from 3″ down to just 17/32″, the clamps work on just about any tapered project and the clamping handles serve double-duty as convenient gripping points for pushing the jig.
Woodpeckers has focused on the needs of hobbyist woodworkers since 1988 and began manufacturing the majority of their offerings in 1993. The company makes precision layout tools, router tables and lifts, innovative clamping tools, carbide-tipped woodturning tools and a wide variety of helpful shop products. Their facility houses a vast array of computer-controlled mills and lathes and employs over 150 skilled American workers.
Complete details on the Precision Taper Jig can be found at the Woodpeckers website: woodpeck.com.