An homage to a humble master
Carl Stammerjohn has taught many woodworkers in his years at Cerritos College. Here's a tribute from one of them, as he gets ready to enjoy retirement.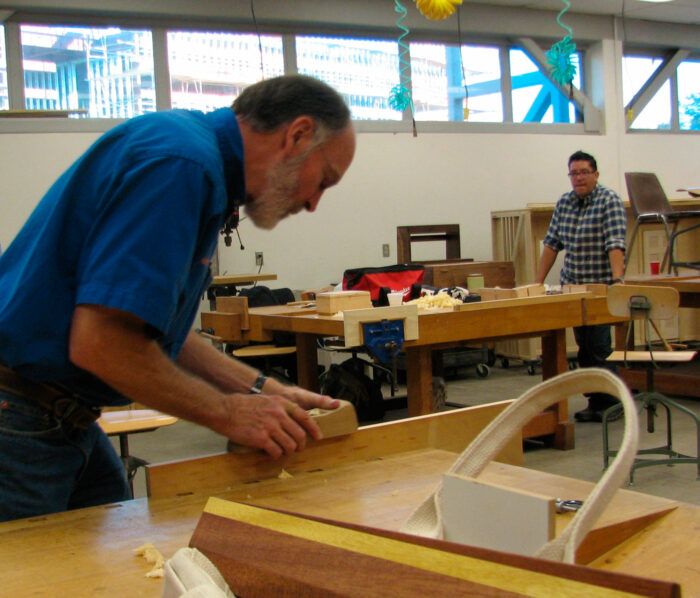 Carl Stammerjohn is an engineer by training, an artist at heart.
After obtaining a degree in engineering, he worked in aerospace, as a race car mechanic, and as a math teacher, before following his passion and starting a custom furniture business.
After about six years of running his own shop, Carl found himself taking classes at Cerritos College.  The faculty members were so impressed with his knowledge and skillset that they invited him to take a position as an instructor.  He gained the respect and trust of his colleagues, and after only a few years became chair of the Woodworking Department. He has worked tirelessly in this role, developing curricula and teaching the fine art of woodworking to countless students over the years.
Those of us who have had the good fortune of taking a class with Carl fondly recall his signature, "Okaaaay, Come on up!" at the beginning of a demonstration or lesson.  We would all jostle for a place at the front of the classroom, eager to learn from this unassuming master.  Carl is equally adept at traditional and modern woodworking techniques, from hand-cut joinery and fine-tuning hand tools, to power tools and computer-aided design.
Carl is known for a depth of knowledge, precision, and rigor in his woodworking.   He brings the same level of devotion to his teaching.  He has high standards, yet balances this with an approachability and kindness. Carl would often send us back to the bench to refine our methods or start over, until it was right.  This is rooted in a genuine concern for his students, sharing his enthusiasm and commitment to excellence with us all.  He is gracious and patient, tolerating our constant questions, and open to new ideas as well.
Carl is modest about his achievements.  A long-time colleague and friend, Anthony Fortner, remembers a time when he was looking through a book of handcrafted tables.  One of Carl's tables was in the book.  When Tony asked why Carl hadn't mentioned this, Carl replied, "You didn't ask."
Carl is not the type to self-advertise or seek adulation.  Which is part of why I wanted to write this post.  After years of sharing and teaching hundreds (thousands?) of students, Carl is retiring in May.  He plans on spending his well-earned retirement with his wife Lindsey, traveling, hiking, and of course woodworking.  Fortunately, he has said that he plans to post on his website and social media from time to time to generously share his knowledge even in retirement.
Carl, you have touched our lives and inspired so many, pushing us to achieve a high level of excellence.  Thank you for your years of tireless and generous service.  You are a true mentor, great teacher, and master of the craft…thank you!
Ben Baroncini has learned woodworking from Carl Stammerjohn at Cerritos College in southern California.