SketchUp to shop – A case box
Tim Killen demonstrates how he created his plans for this handy Shaker project.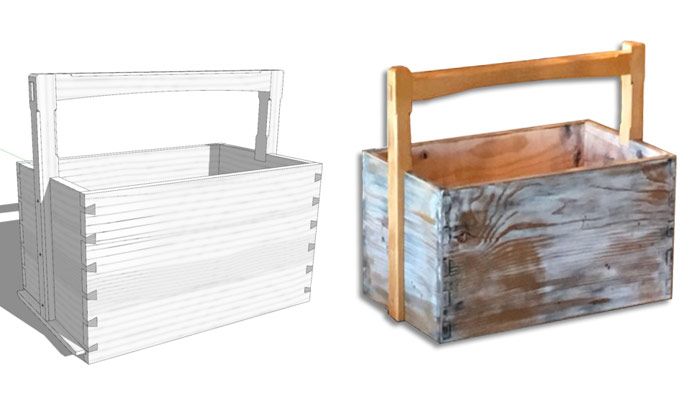 One of my most successful projects has been a Shaker Chip Box. I've probably made 30 of these over several years. Most of these boxes were gifts to family and friends, however we've retained several as they are very useful containers around the house and the shop. I also use them to manage many of my shop tools, technology, and materials.
The original Shaker Box had a steam-bent handle that was positioned across the box (see below). This worked fine for many situations, but occasionally that handle arrangement prevented carrying longer items such as a laptop or projector. So I redesigned the box for more flexibility. While redesigning I also changed the Shaker style dovetails and joinery for the box's bottom component.
In the videos below, I show how to make this box in SketchUp. There are four videos, one introduction and then three phases of the design. I  also provide the dimensional drawing: an overall orthographic front, top, and side views; and the exploded view. You will need these to build your SketchUp model, but it is also useful for building the box in the shop.
This is the Shaker Chip Box with the cross-wise steam-bent handle.
This is my new SketchUp design with a longitudinal handle. Note the slide-in bottom that extends beyond the outside face of the ends. Also notice the notch cutout in the top edge of the ends accommodating a short length of the posts. This provides a strong connection for the handle assembly.
Here is the dimensioned orthographic front, top, and side views.
Here is the exploded view of the components.
You can have fun with this design using various materials and finishes.
Here are the first two videos on making the SketchUp model.
Tim
KillenWOOD