Grizzly Industrial Introduces the Grizzly PRO® Quiet Series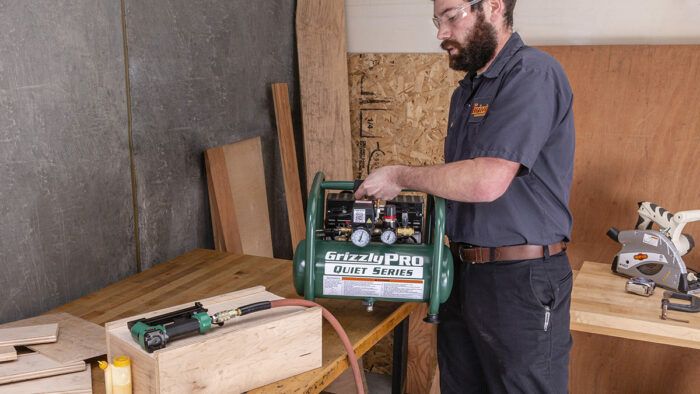 From Grizzly Industrial:
Grizzly Industrial is excited to introduce their new complete line of air compressors, starting with the Grizzly PRO® Quiet Series. These low-decibel, low-maintenance air compressors are perfect for the garage or jobsite for running nail guns and other pneumatic tools, blowing dust off of projects, and airing up tires.
The T32335 is a lightweight 2-gallon model which pushes 3.2 CFM at 40 PSI. Next up is the T32336, a dual-tank 4-gallon model which pushes 6.2 CFM at 40 PSI. Finally, the larger T32337 is a 20-gallon model which pushes 7.4 CFM at 40 PSI with a 2-1/2 HP motor and has wheels for easy mobility.
All three of these air compressors put out max. 125 PSI and run at just 60 dB. They feature roll-cage frames that protect the pump and motor from damage, oil-free pumps for cleaner air and lower maintenance cost, built-in tank output and pressure gauges, quick couplers, air regulators, safety valves, and easy-drain valves. These are perfect for entry-level use, or as great additions to any contractor's arsenal.
All of the Grizzly PRO® Quiet Series air compressors are in stock, ready to ship, and covered by a one-year warranty. For more information visit: https://www.grizzly.com/search?q=quiet+series