From the Bench: Ben Schiff's furniture is full of fun
In the midst of a pandemic, this newly retired woodworker is amusing himself, his wife, and their neighbors with his furniture adventures.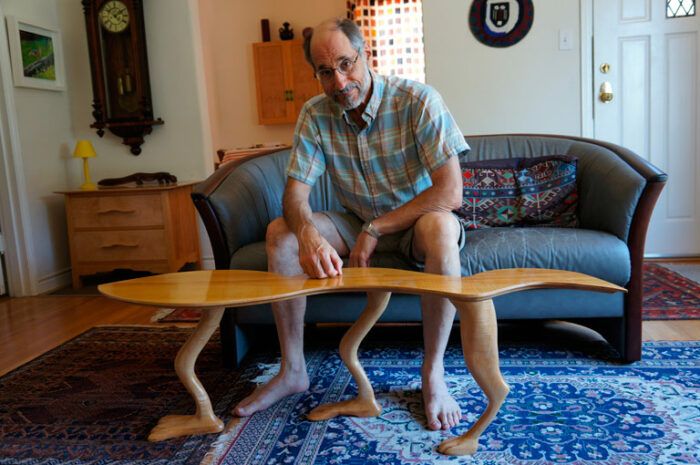 My husband is funny. That's one reason I married him. In woodworking, as with any art form, personality will "out." At least his has.
It all began in junior and high school wood shops, where his teacher Mr. O'Ryan (who Ben remembers as missing part of a finger) would berate errant students with the near-falsetto reprimand, "You have the brain of a tsetse fly!" (A prime violation for Mr. O'Ryan was a student sanding a surface that was to be glued.) Fortunately Ben interpreted that as amusing. For class he crafted a wooden fishing tackle box that he meticulously stores his drills in these days in his garage shop in Oakland, Calif.
It took years for Ben to develop his "chops," not least because of a gargantuan detour into being a professor of international politics at Oberlin College in Ohio for 37 years. He was funny then, too: One year a particularly astute class kept a record of Ben's (usually wry) jokes and presented their tally to him the last class day. Things like: the ozone layer was fraying at the South Pole, producing penguins with sunburns.
All the time that Ben was searching for rhyme and reason in our political situation, he was also absorbing tips and techniques from Fine Woodworking magazine, to which we have subscribed since about 1984.
Describing his work as "Okay Woodworking" or sometimes "Pretty Good Woodworking," Ben built Baltic-birch plywood kitchen cabinet doors, closed in an entire attic with red oak, built banisters, remodeled the garage of our 100-year-old house in Ohio.
Then one fateful day, still in Ohio, Ben, at my suggestion, made a stair-landing closet door out of curly maple. That was the start of his curly maple phase, which he's still in.
When he retired in 2016 and moved to Oakland, we bought a slanting garage and a coastal oak tree; with them came a 1938 cottage which he began to fill with a pair of VGF French doors with stained glass panels from our Ohio house, then a curly maple CD cabinet, a curly maple dining room cabinet (using the closet doors from the Ohio house), then most recently, a trio of curly maple coffee tables where the main stipulation was to have no square corners.
That's where the true personality emerged, where Ben went AWOL LOL. It had been coming on for years apparently. In Leiden, The Netherlands, in 2005, furniture by Dutch artist Frida Van der Poel seared into his brain – slightly askew legs, some of which did not reach the floor.  One year we visited the Escalante, Utah, workshop of David Delthony, who carves stack laminated furniture veering into fantastic swerves. Then a year ago Ben was lured by the smooth sultry shoulders of a Victor DiNovi bench, wall mirrors and shelves in a Mendocino gallery in California.
An autodidact of the first order, Ben taught himself about the idiosyncrasies of various woods, how to French-polish, the properties of different glues, and endless more. The trio of cornerless coffee tables, all French-polished, sit in our living room, resembling creatures—one with flamingo legs, a second stack-lamination one with Sphinx-long paws, the last a Matisse-like swoop with three (count-em three) legs that we variously call the gecko, the Walking Table or "Keep on Truckin." That one looks as if it's desperate to make a break and jog down our hallway. Our also-retired friend on the block, Irina, told us the last one definitely needs a name.
I'm pleased that the geologic grain of the legs on Ben's Walking Table resembles muscles. What more could I want? Well perhaps the exquisite chatoyance, or cat's-eye effect, of the French-polished tops. And as long as he uses the SawStop saw I insisted we buy, I can keep happy about fingers. He might come in and say the skin on his fingers is getting thin from all that sanding, but at least he's got them.
Best of all, in the middle of a pandemic, we have been keeping it together and even amusing our neighbors. Perhaps not LOL, but maybe a CHKL.
————————-
June Goodwin is a former reporter for The Christian Science Monitor in Africa and for Reuters News Agency. She and her husband have written several books together. She has read and learned from every Fine Woodworking magazine since he subscribed in 1984.