Woodpeckers Introduces "Bulletproof" Square
G-10 Composite Material Stands up to Abuse & Foul Weather.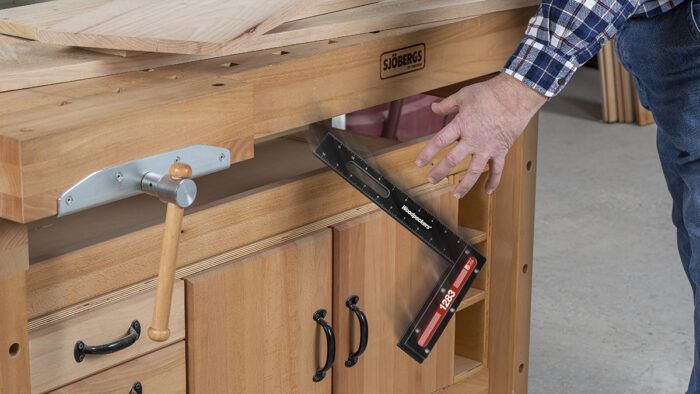 From Woodpeckers®:
Strongsville, OH – Northeast Ohio tool manufacturer, Woodpeckers®, recently announced its new 1283 Woodworking Square made from G-10 composite material. G-10 is impervious to temperature extremes and moisture. It also resists twisting and warping when being machined. This makes for an accurate tool that stays that way through the day-to-day abuse any jobsite can dish out.
Woodpeckers president, Rich Hummel, said of the release, "Striving for accuracy shouldn't be limited to the cabinet shop. We designed a square for those whose work (or passion) takes them out in the field where rough duty and weather extremes can take a toll on your tools."
Hummel went on to explain he first encountered G-10 when advising on a project for judges' benches. G-10 ballistic panels were being integrated behind elegant woodwork to provide protection.  When he learned about its machining properties he started dreaming of an accurate, rugged jobsite square.
The 1283 includes the features that have made Woodpeckers squares popular with professional and amateur woodworkers throughout the world. A lip holds the beam of the square in place to free up your hands for whatever alignment is necessary. The wide base lets the square stand on its own easily. And, scales are laser engraved to very tight tolerance on both the inside and outside of the blade.
Woodpeckers has focused on the needs of hobbyist woodworkers since 1988 and began manufacturing the majority of their offerings in 1993. The company makes precision layout tools, router tables and lifts, innovative clamping tools, carbide-tipped woodturning tools and a wide variety of helpful shop products. Their facility houses a vast array of computer-controlled mills and lathes and employs over 100 skilled American workers.
Complete details on the 1283 Woodworking Square can be found at the Woodpeckers website: woodpeck.com.