Recipe for success
If you have a plan, your time in the shop will be more fruitful.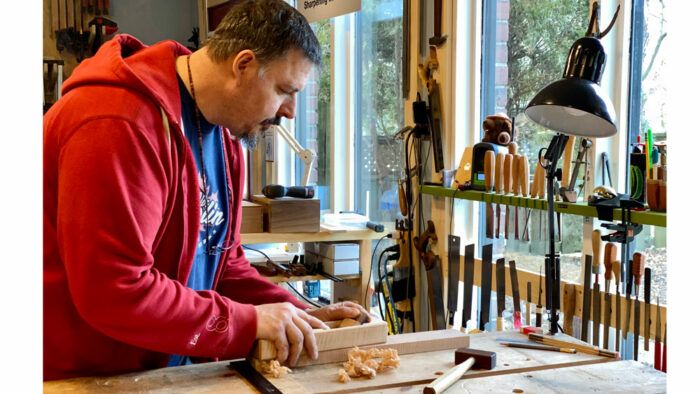 During the 14 years I served in the Canadian army, success was almost always assured if you showed up 10 minutes early, in the correct uniform, prepared to work hard. I have always followed that recipe for success and it has continued to work. I no longer have a uniform per se, but I certainly have clothes that lead to good work. 
Comfortable jeans, a T-shirt, boots, and a sweatshirt in the cooler months are my new uniform. I've tried going out to my shop in other outfits that include items like sweatpants, but I never feel productive. I guess comfy clothes are only appropriate for TV watching and Zoom meetings. I've tried to like wearing an apron but I can't get into it. I find them restrictive and they always seem to require constant adjustment for me to be comfortable. I do use a custom tool holster that a leather worker made to my specifications, and this keeps my often-used tools close at hand.
I schedule my time in the shop because I'm a busy fella and I want to get the most out of my time in there. Granted, most of my time is spent in the shop, but I don't just go in there and  flit around. Every hour is planned so that I can be as productive as possible. This is even more important if you are a hobbyist because your shop time is limited. Balancing a day job and familial responsibilities can be a lot as it is. Your hobby shouldn't feel rushed, unplanned, and therefore, stressful. Of course life happens and things come up, so plans change and adapt, but for the most part I do my best to stay organized and on top of projects in the shop.
I like to keep a list of steps for the various projects I have going at any given time. You would be shocked to realize how much time is wasted standing in your shop, scratching your head, trying to figure out where you left off and what to do next. My lists are kept digitally so that I can look at them during my morning coffee. I plan my day and what I'm going to do when I get in the shop before my shadow is cast on the door.
Another habit that helps to make me more efficient in the shop is that I allocate 5-10 minutes to tidy up before calling it quits at the end of a work session. I vacuum up the shavings and saw dust, tidy up the workbench and other surfaces, and put tools away for the day. Some would say that this is a waste of time if I'm just coming back to the same project the next day. I see the point but I find that I'm in a better head space when I walk into a tidy shop. I always feel a bit anxious walking into a mess and that anxiety bleeds into my work. I learned this lesson from my father who always tidied up his work area before leaving for the day. He felt that it was the difference between a professional and a hack.
If you don't have a uniform or plan when you head into the shop, why not give it a try? You've got nothing to lose and everything to gain. As we used to say in the military, if you fail to plan…plan to fail.
In order to understand, you must do. – Vic Tesolin