How to sharpen an adze
Using a bench grinder and a steady hand, Dave Fisher explains how to tune-up an adze–whether its an antique or a new model with sub-par bevels.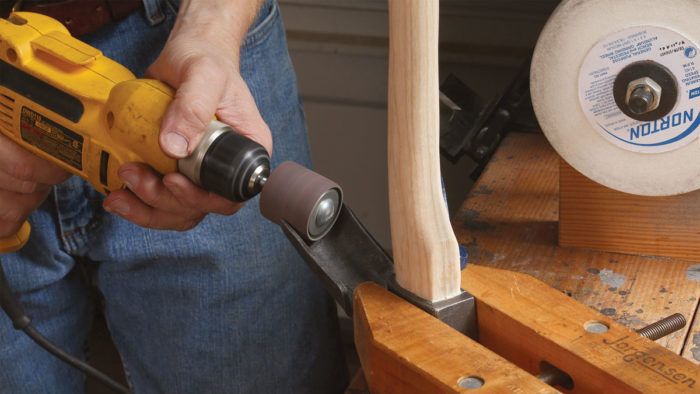 This is an excerpt from David Fisher's article, "What to look for in an adze" in Fine Woodworking issue #285.
You may find an adze with good bones but an edge that requires a complete tune-up, like an antique with deep nicks or a new model with subpar bevels. In these instances, use your bench grinder and a steady hand.
Grinding
Joint the edge on a coarse stone. This lets you start with an even surface. A small flat across the whole edge tells you when you're done.
Grind the inner bevel with a sanding drum and drill. A drum with a radius slightly smaller than the adze edge helps create an even grind. The inner bevel can be quite small, but much depends on the thickness of the steel near the edge.
Dress the wheel with a slight crown. Use a diamond wheel dresser, leaving a slight hump in the middle of the wheel. This crown allows for greater control and just a bit of hollow grind.
Grind the outer edge corner to corner. Fisher rests his left hand on the tool rest and supports the head with his fingers. His right hand holds near the poll. Together, they rotate the adze head, grinding the outer bevel from corner to corner. He sights from above, uses a very light touch, and takes his time while making successive passes. Grind almost to the edge.
Honing
Hone the outer bevel. Keep the bevel flat all the way to the edge. A very slight arc is acceptable, but it can easily become too extreme and cause the tool to bounce off the wood and cut somewhere else. Be especially aware of abrupt rounding near the edge.
Hone the inner bevel. Fisher finishes with a ceramic slip stone, alternating between the inner and outer bevels to work off the wire edge. Hone each side about five seconds until the wire edge is gone.
Finish with a strop. Fisher's strop, leather charged with honing compound, has a flat surface for working the outer bevel (left) and a rounded one for the inner bevel (right).
From Fine Woodworking #285
---