'The Centre for Woodworking Authenticity'
In the end, any woodworking you enjoy is authentic woodworking.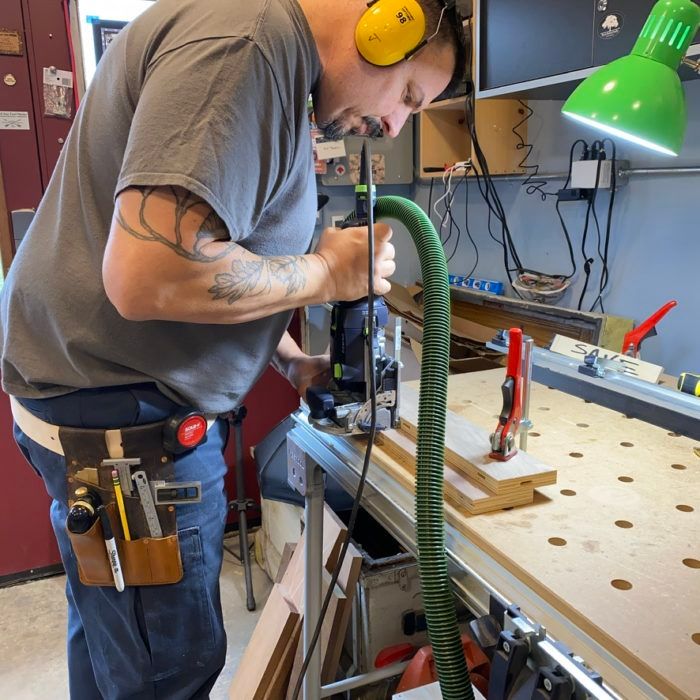 This week I used my Domino joiner for the first time and I have to say that it is something of a game changer. I know that I am relatively late to the party on this tool, but better late than never, right? While I was practicing some setup and experimenting, it got me thinking about a comment that I heard, where someone questioned whether or not using the Domino was "authentic woodworking." What exactly is authentic woodworking and who decides what meets that standard? Is there a group of woolen-underwear-wearing chaps who don capes and sit down to the important work of assessing the authenticity of various woodworking tools and techniques?
Is using technological advances somehow less authentic than say, 17th-century tools and methods? What year is the cutoff for authenticity? Is after 1937 not authentic? With this logic, surely any sort of CNC woodworking must be way off of the authenticity scale, causing a twist in the aforementioned woolies.
I have to admit that I was hesitant about getting and using a Domino. Not because of authenticity, but because everyone that I know who has one has told me that they can't remember the last time they cut a mortise-and-tenon. My concern was that I might end up doing the same, which I don't want. I like cutting mortise-and-tenon joints by hand or with various machines and it has become a big part of what I do. At the end of the day, I got the Domino because it felt right for me. Never once did the thought of authenticity come to mind. 
Ultimately, I say authenticity is subjective. Instead of concerning ourselves with being "authentic," we'd find more meaning in conversations about enjoyment. Personally, I enjoy making furniture and cabinets using a combination of different techniques and tools. You could get into the argument that the floating tenons that a Domino joiner creates aren't as strong as an integral tenon, but that would be akin to arguing about how many fairies can dance on the head of a pin. Both are plenty strong, so again it comes down to preference. 
If I've learned anything in two decades of working wood, it's that there is no one way to achieve a goal. Joinery can be cut with a whole host of tools, from the simplest hand tools to the most advanced CNC-driven machines. If you like programming a CNC and that is part of what you enjoy about the craft, then go for it. It's not my cup of tea but I'm certainly not going to question your integrity or authenticity, or get into a bun fight about whose method is more right. 
I've seen people program CNCs and there is an artistry to that. I'm equally impressed watching a CNC at work as I am seeing someone with a command of hand tools. One is not more authentic, it is all woodworking. Let's spend less time debating and more time enjoying the work. 
---