Editor's letter: Finding sanctuary in the shop
For many of us, woodworking allows the chance to change gears, change focus, and quiet the noise.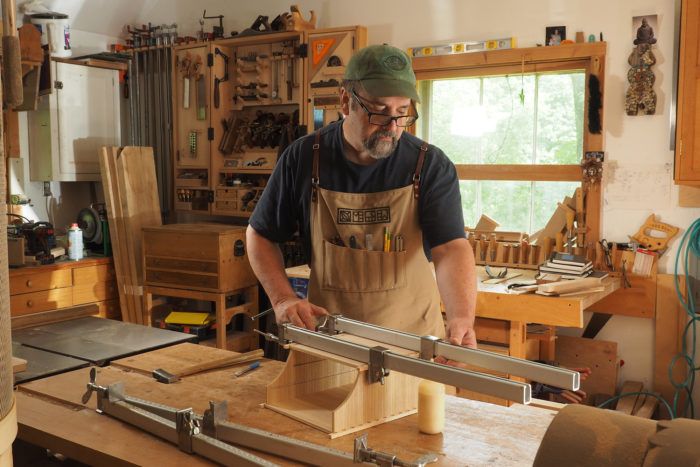 I switched jobs recently, and with the expanded duties and a little more stress added to my life, my first thought was that I may need to cut down on my shop time. Instead, I found that woodworking began to play a more important role in allowing me to take a break from everything else that was going on. When my kids were younger, shop time was tough to come by, and striking a balance between woodworking and family time was always a challenge. With the house a little quieter now, it's easier to get out in the shop, and pursuing tasks like writing articles or prepping for teaching have given me even more reasons to be out there.
What got lost in the mix was the reason why getting into the shop was so important in the first place. Not just for me, but for a lot of us pursuing this craft, woodworking allows the chance to change gears and change focus—to slow down a bit, and quiet the noise (or at least replace it temporarily with that of a router or tablesaw, or better yet, the swish of a handplane). While not always enjoyable in the strictest terms, putting our hands to work making things—a notion that has become something of a spectator sport these days— always brings a tremendous sense of satisfaction.
I began reading Fine Woodworking as a furniture-making student in college not only because it afforded me the information I sorely needed in my attempts to gain a foothold in the craft, but also because it spoke to who I aspired to be as a woodworker. Its writers seemed to understand and share my passions in pursuing the craft. It was for the same reason that 24 years ago, while I was working as a graphic designer and starting a family, we moved from California to Connecticut so I could take a job at the magazine. And it's for the same reason that today I'm still here working to hone my craft and working to make the path a little easier for readers.
During my tenure as art director, and then creative director, my aim has been to help shine a light on the amazingly talented makers in the craft and to share their knowledge in a clear and inspiring way. Now that "editor" has been added to my title, my aim is still the same, and my hope is that my recent reconnection to the important role woodworking can play in our everyday lives will help to guide my efforts.
—Michael Pekovich, editor and creative director
From Fine Woodworking #287